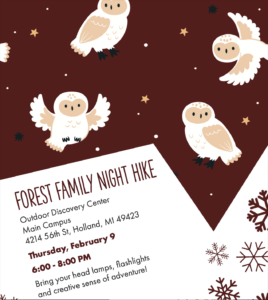 Part of the joy of community is building relationships and enjoying adventures together! You are invited to meet new friends and enjoy community in our first annual Forest Family Night Hike! Bring your flashlights, headlamps and winter gear! The Outdoor Discovery Center will host us for lots of family fun in the dark! Mark your calendars and see you there!
Yours in Christ's service,
Miska
Announcements
New Team Member!
We have exciting news to share. Currently there are two classes of Forest second graders moving into third grade next year ('23-'24). That means we need an additional Forest School teacher to join Miss Slenk in third grade Forest teaching, learning and adventures! I'm excited to share with you that Mrs. Chris DeZwaan has requested internal transfer consideration and her request is accepted with excitement and gratitude! She brings MANY years of academic wisdom and experience to our team. She has been working alongside Miss Slenk as a Pine Ridge 3rd grade teacher for a year and a half and has found herself falling in love with the Forest School model for children! She's eager to jump right in and help grow our program. Please note the following quote she requested to be shared with each of you!
"When we learned that the forest school program was finding a home at Pine Ridge, Natalie Boer and I had a deep desire to walk alongside the forest program and grow a learning community through shared experiences and explorations. Little did we know what God had in mind for us last year and we loved it! I loved the collaboration that took place – looking at curriculum with new eyes to create experiences for kids that combined both what we were doing in the classroom to outdoor experiences. So, when the opportunity came to move into the forest school program at 3rd grade I wanted to be a part of that. I am excited to continue to learn alongside students about who our God is through what we see outdoors, for the additional collaboration and challenge of creating experiences that continue to grow student learning both outdoors and in the classroom." 
Please enjoy this video the Outdoor Discovery Center and MiSTEM Network created showcasing the work our third grade team embarked on together!
Welcome to the Forest, Mrs. DeZwaan! We can't wait to grow with you in this Forest adventure!
Discovery Night!
Do you or any of your friends or extended family have a prospective preschooler or kindergartener? Are you looking into options for the 2023-2024 school year? We'll be having our Discovery Nights on January 10 and 12 from 6-7pm, and we'd love to have you explore South Side and Rose Park's preschool and kindergarten programs! Since we prepare individually for each family visiting this Discovery Night, a RSVP for the Discovery Night is required.
If you are unable to make it to Discovery Night, you are still welcome to visit Holland Christian Schools in person and see things in action for yourself. Feel free to schedule a campus tour through our Admissions Department at admissions@hollandchristian.org or 616.820.2806. You can begin by filling out our Inquiry Form. Enrollment for the 2023-24 school year begins on February 1, 2023.
Enrollment for 2023-2024
Current Families of HC: Preschool and Kindergarten enrollment for the 2023-2024 school year will be open exclusively to current families from January 30th at 9:00 am to January 31st at 9:00 pm! We thank you for choosing Holland Christian.
New Families to HC: Preschool and Kindergarten enrollment for the 2023-2024 school year will begin on February 1st at 9:00 am. Starting February 1 visit our Apply Page to fill out your online application.
Holland Christian is a continuous enrollment school. This means, in an effort to simplify the process for our current K-12 families, you will not need to re-apply every year (this is, after Kindergarten). We are happy that you are a part of the Holland Christian family, and our hope and plan is that you want to continue partnering with us in the years to come!
Swim Lessons
The Holland Aquatic Center will be providing us with swim lessons again this year. Our 1st -4th graders will head to the pool February 27-March 10. Our 3rd and 4th graders will join the Pine Ridge time slots.
2nd Grade – 9:15am-9:45am
1st Grade – 10:15am-10:45am
Hot Lunch
Upcoming Events
View the full Holland Christian Calendar
January
10&12: Discovery Nights at South Side and Rose Park
9-20: MAP & Delta Testing
13: End of 2nd Quarter
16: No School MLK Day
20: Report cards available online
February
1: 2023-2024 Preschool & Kindergarten Registration opens
17: 1/2 day of school
20: No school Presidents Day