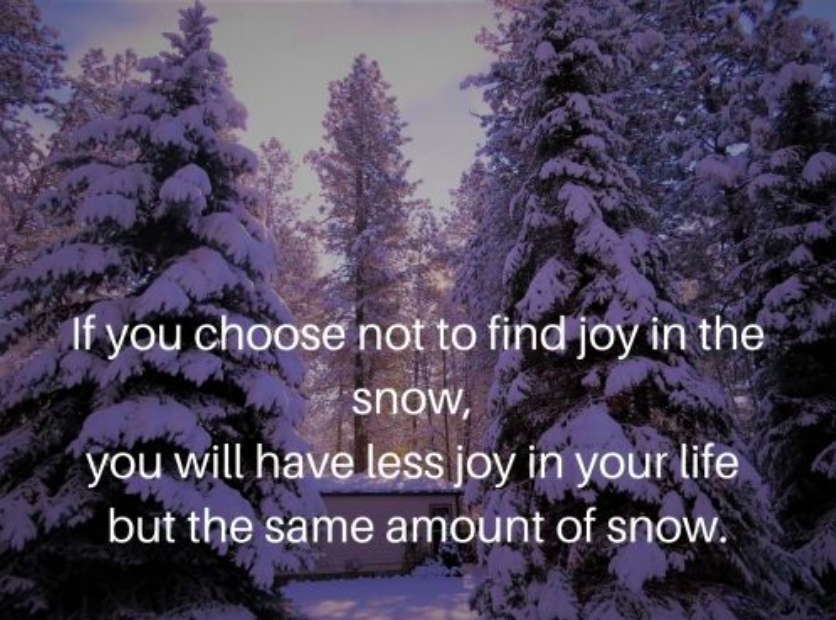 Dear Forest Families,
The internet is full of memes and silly viral videos. Most of these images roll right past me. But there was truth in one that popped onto my page recently and perhaps it will resonate with you as well as we walk through these last few weeks of winter.
We teach our children words of Nehemiah 8:10 and even put the truth to music "The joy of the Lord is my strength." May it ever be so for our children and modeled by each of us, even in the chill of the winter, that the joy of the Lord is our strength!  
Yours in Christ's service,
Miska
Announcements
Enrollment Has Begun for 2022-23
We are excited to welcome our youngest learners to Forest School and Holland Christian! Preschool and kindergarten enrollment for the 2022-2023 school year began on February 1, 2022. You can visit our Apply Page now to fill out your online application.
T.R.I.P
Are you getting the most help you can for paying your tuition? The TRIP program is designed to help you pay tuition without extra cost to you. Have you checked it out lately? There are so many instant and electronic opportunities now available that make it easier, more convenient, and comfortable to use! Take a quick look at it and see how easy it's become. Give it a try and see if it doesn't lighten your financial load. Help is always just a quick question away. We love to help you make it work for your family! You can also visit our TRIP page for more info.
Tulip Time Choices
In 2018, Tulip Time reframed their mission statement to read "Mission Statement: To celebrate Holland's tulips, Dutch heritage and community." To better align ourselves with their mission statement as well as with the goals here at Holland Christian, our Rose Park and Forest School students will be given two options for dressing up and walking in the the 2022 Kinderparade. More details will be forthcoming as we get closer to Tulip Time, but we want you to be aware of the options well in advance of the Tulip Time season: Our students from Rose Park and Forest School will be given the option of walking in either our new "tulip" section of the parade or our "Dutch heritage" section. The whole of our two groups walking together will be a celebration of our "community."
If your 1st or 2nd grade Forest student chooses to opt into the "tulip" section of our parade, your child will design and construct his or her own tulip to carry and then dress as a gardener based around our "Rooted" t-shirt. This gardener costume might include gardening boots and gloves, overalls, a wide-brimmed hat, etc. Anything you have handy at home that helps your child look like a busy gardener tilling the tulips will fit the part perfectly!
Students who opt into the "Dutch heritage" portion of our student body will wear their own Dutch costume and carry fun parade props.
All of our students from Rose Park and Forest School will be walking together as one big community in the aforementioned subsets. More details about logistics, costumes and timing will be coming soon. Don't hesitate to email Miska with questions or wonderings at mrynsburger@hollandchristian.org.
Boys Lacrosse Club
Holland Christian offers boys lacrosse as a spring club sport opportunity for students currently in grades 3-8. There is a 3rd/4th team, a 5th/6th team and a 7th/8th team that compete from the end of March to the end of May. Register today through our "Active" registration, which is the same registration link as HC summer camps: https://campscui.active.com/orgs/HollandChristianSchool?orglink=camps-registration#/selectSessions/2940142. If you have any questions, please email Micah Kool at mkool@hollandchristian.org.
Parent-Teacher Conferences
Parent-teacher conferences are coming up March 28 & 30, from 4-8 pm both days. You will receive an email with instructions on how to register for conferences in a few weeks. (The elementary parent-teacher conference dates on the all-system monthly newsletter are incorrect, while these are correct!)
Hot Lunch
CALENDAR
View the full Holland Christian Calendar
February
1: Preschool and kindergarten enrollment begins
21: Presidents Day and teacher inservice – No school
March
5: Kid Stuff Resale
18 : End of 3rd quarter
25: Report cards available
28: Parent Teacher Conferences
30: Parent Teacher Conferences
April