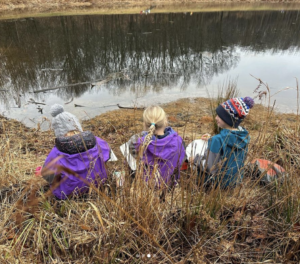 Store windows at this time of year are often laced in doilies and framed with paper chain hearts. Our commercial calendar is reminding us it's time to celebrate love in this the shortest month of the year. I hope you hear my smile rather than the sound of cynicism. Truly, Jesus challenges us to love others authentically, love God deeply and even love ourselves graciously every day of our lives rather than the focus in just one month or a single special holiday. Our Rose Park children recently unpacked these words shared by the revered Reverend Dr. Martin Luther King Jr: "Darkness cannot drive out darkness: only light can do that. Hate cannot drive out hate: only love can do that." Yes. May our actions throughout the journey of our lives ever speak this truth. And may our children learn this truth through our actions, not just our words. Love is much greater than hate. God's light is much greater than the darkness in this world. My prayer is that our children will live this truth more authentically and effectively than all who have come before. And? Happy Valentine's Day, friends. 🙂
Yours in Christ's service,
Miska
Announcements
Forest Family Night Hike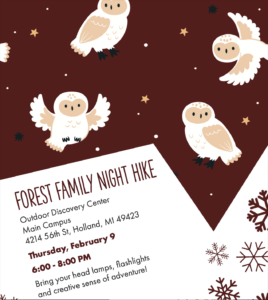 Part of the joy of community is building relationships and enjoying adventures together! You are invited to meet new friends and enjoy community in our first annual Forest Family Night Hike! Bring your flashlights, headlamps and winter gear! The Outdoor Discovery Center will host us for lots of family fun in the dark! Mark your calendars for Thursday February 9 from 6-8pm and we'll see you there!


Enrollment for 2023-2024
For full information on enrollment dates and links, please see the separate email sent out earlier today to all parents. However, for all parents with children in kindergarten or above, it's nice to be reminded that Holland Christian is a continuous enrollment school. This means, in an effort to simplify the process for our current K-12 families, you will not need to re-apply every year (this is, after kindergarten). We are happy that you are a part of the Holland Christian family, and our hope and plan is that you want to continue partnering with us in the years to come!
Swim Lessons
The Holland Aquatic Center will be providing us with swim lessons again this year. Our 1st-4th graders will head to the pool February 27-March 10. Our 3rd and 4th graders will join the Pine Ridge time slots.
2nd grade: 9:15am-9:45am
1st grade: 10:15am-10:45am
Parent-Teacher Conferences
Parent-teacher conferences are coming up! You will receive an email with instructions on how to register for conferences in a few weeks.
Monday, March 20: 4-8pm, in-person
Monday, March 27: 4-8pm, virtual option available
Tulip Time Choices
In 2018, Tulip Time reframed their mission statement to read "Mission Statement: To celebrate Holland's tulips, Dutch heritage and community." To better align ourselves with their mission statement as well as with the goals here at Holland Christian, our Rose Park and Forest School students will be given two options for dressing up and walking in the the 2023 Kinderparade. More details will be forthcoming as we get closer to Tulip Time but we want you to be aware of the options well in advance of the Tulip Time season. Our students from Rose Park and Forest School will be given the option of walking in either our "tulip" section of the parade or our "Dutch heritage" section. The whole of our two groups walking together will be a celebration of our "community."
If your 1st-4th grade student chooses to opt into the "tulip" section of our parade, your child will design and construct his or her own tulip to carry and then dress as a gardener based around our "Streams of Living Water" t-shirt. This gardener costume might include gardening boots and gloves, overalls, a wide-brimmed hat, etc. Anything you have handy at home that helps your child look like a busy gardener tilling the tulips will fit the part perfectly!
Students who opt into the "Dutch heritage" portion of our student body will wear their own Dutch costume and carry the parade props our students have carried in the past.
More details about logistics, costumes and timing will be coming soon. Don't hesitate to email Miska with questions or wonderings.
Elementary Athletic Opportunities
3rd-8th grade Lacrosse
Middle School lacrosse sign-up is now open! If you are a 3rd-8th grader who would like to play lacrosse this year, you can sign up now on Active. Whether you are new to lacrosse or have been playing for many years, we would love to have you join us! If you have any questions, you can email Jake Andringa or call 616.566.2051 or email Micah Kool.
Girls' Running Club
3rd – 5th grade girls are invited to join the Rose Park Girls' Running Club this spring. Together, we will learn about the physical and mental benefits of running as the girls gain confidence and work toward the goal of running a 5K at the end of the program. The club is designed to be fun and welcoming and there is no cost to participate. Practices will be held 3:30-4:30pm Tuesdays and Thursdays starting Tuesday, March 14 (no practices during spring break). The club ends with the Tulip Time 5K on May 6. To sign up or for more information, email coach Goldie Van Horn at 570.401.7181.
Volleyball Clinic
Whether brand-new to the sport of volleyball or a more experienced player, this clinic is for all elementary athletes, both boys and girls! Led by the high school coaches and mentored by Holland Christian varsity volleyball players, kids will have 3 fun and active sessions learning the game of volleyball and focusing on improving foundational skills. We coach every level and look forward to helping your kids grow in the game of volleyball while also challenge themselves physically and engaging in fun and memorable games and activities.
Who: K-2nd and 3rd-6th grade boys and girls
Location: Holland Christian High School Gym
Dates/Time: March 11, 18, and 25. K-2 @ 8-9:20am, 3rd-6th 9:30-10:50am
Cost: $25, Late Registration: $35
Sign-up now on Active  (select 22/23 school year)
Holland Little League
Holland Little League is excited to offer baseball and softball for kids ages 5 through 12. Sign up HERE on Holland Little League's website to get your child outside this spring and on a team. Younger levels (age 7 and below) are formed based on the elementary schools, so it is likely your child will have others they know on their team. Registration closes February 28, so act soon and get your child signed up! Financial help with the registration cost is available. Please email: littleleagueholland@gmail.com. If you know of anyone interested in coaching, or helping coach a team this year please email Matt Richardson at richardsonm252@gmail.com.
Hot Lunch
Upcoming Events
View the full Holland Christian calendar
February
1: 2023-2024 preschool & kindergarten registration opens
9: Forest Family Night Hike
17: 1/2 day
20: No school: Presidents Day
27- March 10: Swim lessons
March
4: Kid Stuff Resale
17: End of 3rd quarter
23: Spring Program
24: Half day: Teacher inservice
24: Report cards available online
20: Parent Teacher Conferences
27: Parent Teacher Conferences
April