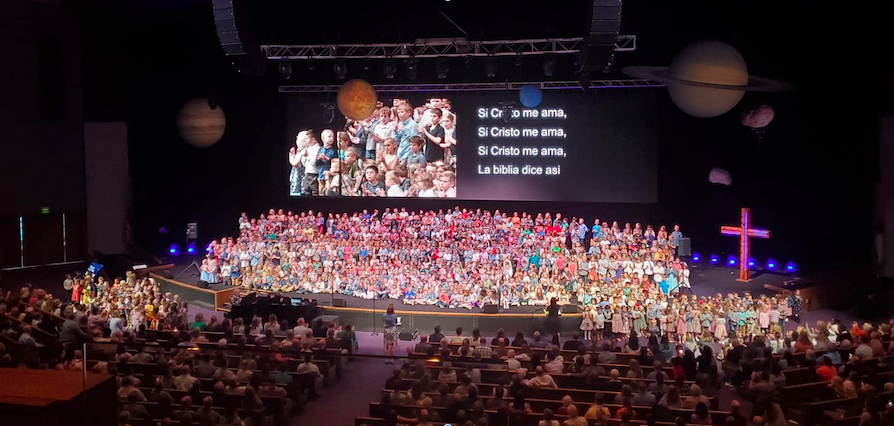 Cristo me ama, La Biblia dice asi! We are so blessed, friends! What joy to search for a stage large enough to hold ALL of our HC elementary children once we decided to bring back the Spring Program for both sides of town! An enthusiastic children's choir 800 voices strong must be a little bit like the pure love and joy found in Heaven. Thank you for graciously bringing your child to the overly busy waiting rooms, finding a seat somewhere in the worship center and allowing us to come ALL together and worship our Jesus! Yes! Jesus Loves the Little Children! They bless us every day! 
Yours in Christ's service,
Miska
Announcements
Meet Our Newest Forest Teacher, Mrs. Hucul!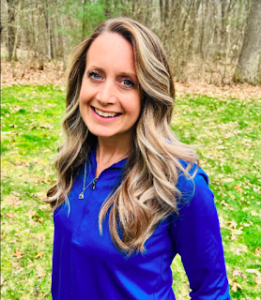 I graduated from Saginaw Valley State University with a BA in Elementary Ed and an Early Childhood Endorsement. I have taught preschool, kindergarten and first grade. I am passionate about innovation in education and launched Nature-Based Kindergarten in Midland, Michigan before joining the Outdoor Discovery Network Team to start multiple nature-based preschools. I have always been compelled to serve young children and their families. I believe strongly that God has designed children as capable and whole people that should be honored for their individual gifts. Serving God at Holland Christian provides me with the opportunity to work on a team to design an educational experience that is centered with a  relationship with God, His creation and each other. The ultimate learning experience!
I am married to my high school sweetheart, Josh and we have three children: Harper (8), Easton (5) and Summer (10 months). I enjoy spending time with my family, wandering in the Michigan seasons, camping, and running. It is in my quiet moments running that God and I share in some of my most favorite conversations.
In this season of life, 2 Corinthians 5: 7, "For we walk by faith, not by sight" is at the center of my journey. I am eager to walk alongside children to learn, play and serve God. Together, we will learn how experiencing God's creation, the forest, will  provide us with the ultimate opportunity to be guided by God. I am incredibly grateful for the trust and opportunity to teach at Holland Christian's Forest School!
Tulip Time
On Thursday, May 12, our 1st-4th graders will participate in the Tulip Time Kinderparade. We will have a normal school schedule in the morning. Forest kindergarteners will be dismissed at 11:30am. Students in grades 1-4 will remain at school, until we load the buses to head to the parade route. They will eat lunch at school before heading to the parade. There will be no hot lunch, so please send a sack lunch to school with your child on Thursday!  
An information sheet and pick up slip was sent home with your child.   
Join Parent Board
We have a whole host of ways for parents to help out, plug into the school community, and join our team! Forest School now has their very own Parent Board, a volunteer group of dedicated parents that support the teachers and staff, raise money beyond the budgetary allowances for extra educational materials and equipment, and enfold new families into our school family. We're looking for a few new members for next year to help us plan/execute Walkathon, show teachers our appreciation throughout the year, and plan some fun events! If you are interested in getting more involved with school and building new relationships with the Holland Christian family in this way, please join us on Tuesday, May 17 at 10am for a quick informational meeting at Forest School in the amphitheater.
2022-23 Before & After School Care
If you are interested in using the Before and/or After School Care Program for the 22-23 school year, please follow the links below. The program is for students in preschool- 5th grade. If your child(ren) attends South Side and/or Pine Ridge, then you will need to fill out the form for South Side. If your child(ren) attends Rose Park, then you will fill out the form for Rose Park. If you have any questions, please contact Tammy Grassmid at tgrassmid@hollandchristian.org.
Forest School Gear Swap & FB Chat Group
If you are a Forest School parent looking to buy or sell any gear with a lot of life left, you may want to join the Forest School Gear Swap Facebook Group. It's a private group exclusively for HC FS parents where you can swap gear, share tips, ask questions and more!
Hot Lunch
Calendar
View the full Holland Christian Calendar
May
11-12: 1/2 days for Tulip Time
30: No school for Memorial Day
June
3: Last day of school, 1/2 day