Another school year has gone by, friends. God is GOOD! What a blessing it is to spend time with each child and each staff member learning the unique story God is writing in each person's life. If you know our staff members well, you know that they each hold a deep desire to bring glory to God by serving your child and your family. In that calling God is served. 
And our children! Oh they are loved! What a blessing it has been to again walk beside each child and each family. Every one of these dear children are a beautiful, unique blessing from God! They have each grown so much over these past nine months. What a joy it is to work together with you providing your child with the best of our partnership. 
We already have new families eager to be part of our Forest School family next year! Be on the lookout for new faces and families to welcome next year! In the meantime, have a blessed summer full of treasured memories! We can't wait to hear about your adventures next year!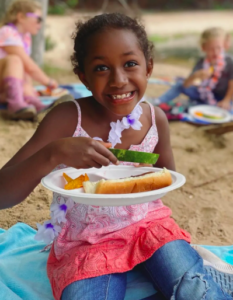 Yours in Christ's service,
Miska
Announcements
Class Lists
We are eager to share our class lists with each of you. These lists share the names of children who will create a family with your child next year. They also share the name of the compassionate teacher who will be an entrusted partner of yours through many learning adventures for the school year. We have a few teacher assignments throughout our elementary buildings at Holland Christian that are yet awaiting a definitive decision due to enrollment. Because of this, we will be able to share your child's class list with you just after July 1. Understandably you are eager to receive this news as soon as possible, but we want to ensure there are no changes to the class list and therefore must wait until after July 1 to share those lists with you. Thank you for your patience and understanding. 
Meet Our New Second Grade Forest Teacher
Hello! My name is Sadie VanderLee, and I am SO excited to be joining the Forest School! I graduated from Hope College with a degree in Elementary Education and Early Childhood Education. I have spent the past two years teaching in Kentwood Public Schools. I enjoy spending time with family and friends, camping in Northern Michigan, running, hiking through the dunes, attending community events, and watching Michigan sunsets.
The concept of nature-based education is so inspiring to me. Students learn and grow when they are given multiple opportunities and challenges in various settings. It is my passion to provide students with this positive learning environment and connect with families in the process. I believe God's creation is the "dream classroom" and allows us to develop our relationship with Him. I am eager to teach and learn with passionate, encouraging students this school year!
This opportunity has been an answer to prayer as I become integrated in Holland Christian and specifically the Forest School. I am a graduate of Holland Christian, so I am delighted to return to a place that is so special to me. I pray this upcoming year brings challenges, celebrations, a lot of learning, and enjoyment! Thank you for welcoming me into the Forest School community. I look forward to meeting everyone!


Rising Second Grade Tour
Plans are underway to create an event for the families of our rising second graders. We're eager for you to meet our two teachers, tour the property where your child will engage in learning and talk through logistics. A personal invitation will be forthcoming. Thank you for growing with us as we grow your child together, friends! 
Let's all Keep Reading this Summer! 
Thank you for partnering with us this past school year and it seems we have so much to celebrate this year! One of your celebrations might be how your child(ren) grew as a confident reader this past year. Each of our educational programs, including Forest School, have made a concentrated effort to grow the mechanics of reading as well as each child's love for reading. Unfortunately, there is an alarming amount of research that shows how much students might slide backward during the summer vacation. Fortunately, there is a relatively easy remedy to keep your child flourishing in reading by having your child read at least six "just right" books over the summer. The Reading Now Network promoted this summer reading concept as described in the linked flier as "
6 to Make It Stick.
" You do not need a Lexile range or a Running Record to know what is a "just right" book for your child(ren)–just use the "Five-finger Rule" described in the flier and encourage your child(ren) to read at least six books over the summer!
Automatic Re-enrollment after Kindergarten
Now that we are using PowerSchool for all of our applications and enrollment, the system automatically re-enrolls students of all grades kindergarten and up into the next grade level of the educational program and building that they are enrolled in. Parents will still need to re-enroll their preschool students each year into Powerschool through their kindergarten year, but don't have to re-enroll for first grade or any grade level after that. Therefore, through PowerSchool, we have automatically enrolled your child(ren) to continue in their current educational programs and campuses. In the rare event that you are considering changing educational programs or campuses, please contact Kristen VanRavenswaay via email at
kvanravenswaay@hollandchristian.org
about any possible changes by June 15, 2022, as we need to finalize teacher assignments before releasing class lists and individual programs will likely release class lists in July.  
22-23 Before & After School Care
If you are interested in using the South Side/Pine Ridge Before and/or After School Care Program for the 22-23 school year, please sign up using this SS/PR BSC/ASC link. The program is for students in preschool- 5th grade. If you have any questions, please contact Tammy Grassmid at tgrassmid@hollandchristian.org.
Forest School Office Hours at Rose Park Office
June 6-10: The office will be open from 9am-3pm to assist parents. Tuesday, June 7, the office will only be open from 1:30-3:00pm due to an off-site meeting.
August 1-12: The office will reopen daily from 9am-1pm, and then resume regular office hours begin August 15.
Calendar
View the full Holland Christian Calendar
August
23: First day of school!
31:  Beginning of the year Convocation at HCHS
September
2: No school
5: No school: Labor Day
8: Picture day
16: 1/2 day for teacher PD
28: Walkathon