It's nearly time, friends! Our classrooms and learning spaces are once again coming to life! We are SO grateful for the hard work and creative dedication put in over the summer months by each of our teachers and our maintenance team. They have worked diligently to prepare our spaces and we are nearly ready to welcome your child! You'll note the kindergarten classroom construction and sidewalk has almost reached completion as well! Thank you for your patience as we finally get to usher in this new adventure into the school life of your child. To say that we are all excited would be a massive understatement!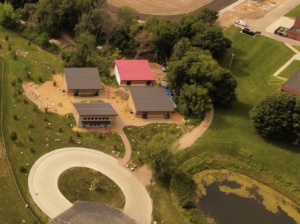 The theme we will be unpacking together as a school community this year is "Streams of Living Water". Our children will hear the words Jesus spoke at the Festival of Tabernacles found in John 7:37-38 "Jesus stood and said in a loud voice, 'Let anyone who is thirsty come to me and drink. 38 Whoever believes in me, as Scripture has said, rivers of living water will flow from within them." and apply this truth to their lives. As our dear children's parents and teachers, we are encouraged to bask in this truth as well. When we come to the water and receive LIFE from our Jesus, we are made whole and belong fully, body and soul, to God. Please pray regularly with us that our children grasp this deep truth and make it their own in their lives during this year and all that God has in store for them in their lives. 
In order to launch this year smoothly and help you be well informed, please take a peek at the dates and important information below. See you soon!
Yours in Christ's service,
Miska
Announcements
Class Lists
You can find your most up to date Class Lists!
Supply Lists
The Forest School Supply list is your guide to help prepare for the school year.
Health Appraisals, Immunizations and Waivers
The State of Michigan requires that your child(ren) be immunized for enrollment at Holland Christian Schools. Each year we must report every student enrolled in preschool, kindergarten, seventh grade, and those that are new to our district. Please review the Required Childhood Immunization Schedule set forth by the State of Michigan.
Please also note that the State of Michigan has revised its law on immunization waivers.
If you intend to complete a non-medical waiver to the immunization policy, you must contact the Ottawa County Health Department at to schedule an appointment to speak with a health educator, complete the waiver process and submit the original certified waiver to the school office.
The original certified medical waivers must be completed and signed by a physician then submitted to the school office.
Written evidence that immunizations are now up to date or a copy of a certified waiver must be received before the start of the school year and is due by or on the first day of school. A new waiver is required each year that your child is reported (preschool, Kindergarten, 7th grade)This will allow for proper processing prior to the first day of classes.
PowerSchool
PowerSchool is our student information database. You will want to bookmark this site! There is also an app available for PowerSchool for your phone which can be very helpful. PowerSchool parent information, including passwords and usernames, will be e-mailed to parents at the beginning of the year or provided to you upon enrollment if you enroll mid-year. If there is a change in your phone number or address any time during the school year, it is important that are informed right away. Parents can update their information on PowerSchool directly on the Demographics Change tab. This assures up-to-date contact information for your child.
You must update your demographic information in Powerschool each fall with your latest and most accurate contact information. Simply login, then either an "update demographic screen" will automatically pop up, or simply click the "change demographics" button on the left of the screen. This information is necessary for field trip participation, emergency response and treatment, student photo permission, and for the office to easily be able to contact a parent or guardian as needed or desired. When listing your child's emergency contacts, please be sure to list two contacts other than yourself.  
22-23 Before & After School Care
Our Before & After school program is currently full, but if you are interested in using the South Side/Pine Ridge Before and/or After School Care Program for the 22-23 school year, please email Tammy Grassmid to join the the waiting list.. The program is for students in preschool- 5th grade.
Hot Lunch – New Procedures
Students in Forest School have received free snacks and lunches through the USDA Covid Relief Program for the last few years.  That program ended with the 2021-22 school year. Families once again are responsible for suppling snacks for their student(s) to eat during the school day. Please send one to two nutritious snack items along with a water bottle to school each day.
Holland Christian will be  offering lunches for purchase for preschool through fifth grade during the 2022-23 school year. Kindergarten through fifth grade will place their lunch order for that day's hot lunch option in their classroom each morning. Chocolate or White milk is included with hot lunch. Student may choose to order milk only to accompany their home lunch.
Detailed information about our new Hot Lunch Program is found on our flier, including menus, pricing, how to apply for free or reduced lunches, and how to deposit funds into your child's hot lunch account.
Moms In Prayer
Moms in Prayer is a great way to connect with other moms, pray for your child, and have an impact on Forest School . Please join us on Fridays starting September 9 at Providence Church 8:30-9:30. Contact Nicole Shook with questions. ncshook@gmail.com
Prescription Medication Authorization
Medications may be administered at school by school personnel when necessary for school attendance.  If your child is in need of medication during the school day, our office will administer medication that is brought into the building by an adult with a school Administration of Medication Consent form that has been completed by the parent and physician.
Elementary Handbook 
The Elementary Handbook is a great resource for parents providing important details on things like our curriculum, discipline policy, etc.
Forest School Office Hours at Rose Park Office
August 1-12: The office will reopen daily from 9am-1pm, and then resume regular office hours begin August 15.
Calendar
View the full Holland Christian Calendar
August
23: First day of school!
31:  Beginning of the year Convocation at HCHS
September
2: No school
5: No school: Labor Day
8: Picture day
16: 1/2 day for teacher PD
28: Walkathon
October
17: Parent Teacher Conferences 4:00pm-8:00pm
19: Half day of school – Parent Teacher Conferences
20-21: CEA Convention – No School