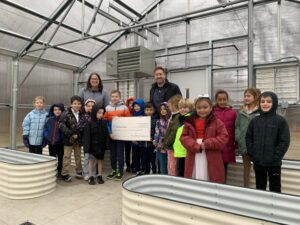 As 2023 dawns, we are so excited and grateful to continue walking this educational journey with your family. To bring Jesus' Light and Life to your child in their formative years is truly among our greatest joys! We are grateful that our ranch is opening new opportunities for us to be the hands and feet of Jesus in very concrete ways for your young child! An innovative class of second graders at Rose Park budded a partnership with Kids Food Basket by earning and contributing enough money to feed a child with food insecurities for a whole month! Recently, Kids Food Basket has been connecting with farmers to broaden the sack suppers to include fresh, organic food choices rather than solely processed food. Our students heard this as they stood among the raised beds and realized, "Hey! We can help in this effort!" In this new year, please pray over our upcoming work to grow food and help bring nourishment to children who need healthy, yummy choices right from our very own greenhouse! And my prayer is that this work with change the shape of their heart in their formative years to look a little more like Jesus' heart every day!
Yours in Christ's service,
Miska
A medida que amanece el 2023, estamos muy emocionados y agradecidos de continuar este viaje educativo con su familia. ¡Llevar la Luz y la Vida de Jesús a su hijo en sus años de formación es verdaderamente una de nuestras mayores alegrías! ¡Estamos agradecidos de que nuestro rancho esté abriendo nuevas oportunidades para que seamos las manos y los pies de Jesús de maneras muy concretas para su hijo pequeño! ¡Una clase innovadora de estudiantes de segundo grado en Rose Park se asoció con Kids Food Basket al ganar y contribuir con suficiente dinero para alimentar a un niño con inseguridad alimentaria durante todo un mes! Recientemente, Kids Food Basket se ha conectado con los agricultores para ampliar las cenas de sacos e incluir opciones de alimentos frescos y orgánicos en lugar de solo alimentos procesados. Nuestros estudiantes escucharon esto mientras estaban de pie entre las camas elevadas y se dieron cuenta: "¡Oye! ¡Podemos ayudar en este esfuerzo!" ¡En este nuevo año, ore por nuestro próximo trabajo para cultivar alimentos y ayudar a nutrir a los niños que necesitan opciones saludables y deliciosas directamente desde nuestro propio invernadero! ¡Y mi oración es que este trabajo cambie la forma de su corazón en sus años formativos para parecerse un poco más al corazón de Jesús todos los días!
Suyo en el servicio de Cristo,
Miska
Announcements
Thank you!
Thank you to the the parent team for a lovely Christmas lunch for our teachers and staff! And thank you for monitoring recess so teachers could enjoy time together. We are grateful for your love and support!
Swim Lessons
Now that safety concerns we lived through during the pandemic are released, the Aquatic Center is able to provide swim lessons for us again this year! I recognize this program is a little uncomfortable for each child because it's new and unfamiliar. Because our children are blessed to be raised in Michigan, surrounded by bodies of water, we believe this safety instruction is a blessing that we pray they will never need but feel responsible to equip them. If you find yourself pondering over the "why" of lessons, please take a listen to HC mom Jenny White on the why swim safety. HCAC Swim School welcome video that will help you understand a bit about the logistics. Our 1st-4th graders will be bussed to the pool each day the weeks of January 30-February 10. Each grade level is assigned the time below:
1st Grade – 9:15am-9:45am
2nd Grade – 10:15am-10:45am
4th Grade – 11:15am-11:45am
3rd Grade – 12:50pm-1:20pm
Discovery Night at Rose Park
Do you or any of your friends or extended family have a prospective preschooler or kindergartener? Are you looking into options for the 2023-2024 school year? We'll be having our Discovery Night on January 12 from 6-7pm, and we'd love to have you come and explore Rose Park's preschool and kindergarten programs! Since we prepare individually for each family visiting this Discovery Night, an RSVP for the Discovery Night is required.
If you are unable to make it to Discovery Night, you are still welcome to visit Holland Christian Schools in person and see things in action for yourself. Feel free to schedule a campus tour through our Admissions Department at admissions@hollandchristian.org or 616.820.2806. You can begin by filling out our Inquiry Form. Enrollment for the 2023-24 school year begins on February 1, 2023.
Enrollment for 2023-2024
Current Families of HC: Preschool and Kindergarten enrollment for the 2023-2024 school year will be open exclusively to current families from January 30th at 9:00 am to January 31st at 9:00 pm! We thank you for choosing Holland Christian.
New Families to HC: Preschool and Kindergarten enrollment for the 2023-2024 school year will begin on February 1st at 9:00 am. Starting February 1 visit our Apply Page to fill out your online application.
Holland Christian is a continuous enrollment school. This means, in an effort to simplify the process for our current K-12 families, you will not need to re-apply every year (this is, after Kindergarten). We are happy that you are a part of the Holland Christian family, and our hope and plan is that you want to continue partnering with us in the years to come!
End of 2nd Quarter and Report Cards
Your child's report card will be available for viewing on line beginning Friday January 20.  This is a wonderful time to share in the academic successes and joys as well as the areas where work can continue to work and grow.
Share in the Farming Fun
If your family would like to participate in the barn chores during the evening and weekend, you're invited to sign up to be a "farmer for a week." I'll send you our training video prior to your week, but truly this will be a leadership opportunity for your child to teach your family how to care for the animals and keep the chores tended to on an evening or two and on the weekend. If you'd like to sign up, the basic need is checking in on the animals on Saturday and even on Sunday to ensure they're fed, have clean water and clean bedding. Any evening chores is a bonus! Once we have a rhythm with Rosie and Parker, we'll add our three egg-laying hens!
Here's the link to sign up to be a farmer for a week. You'll note our year is full so I've added a second family slot for each week. There's plenty of work to go around, and we'd love to have you join us!!
Rose Park Lost and Found
Please take a minute to look our Lost and Found photo Album to see if any of these items belong to your student. Feel free to email Carla cchase@hollandchristian.org or Laura lrotman@hollandchristian.org to claim your items and we will make sure to get it in your students backpack. These items will be donated soon.
Also, please make sure bring your child's snow stuff to school everyday or leave an extra set at school. In Michigan, the weather can change quickly and we want to make sure your child is warm and comfortable in their outdoor play! Our office has a limited supply of items. If your child borrows an item, we will send it home to be washed and returned for other students to use. We are always looking for extra gloves to add to our supply!
Substitute Need
Help needed!! Rose Park has a handful of WONDERFUL individuals who faithfully jump in and help us fill in for teachers and aides who need to be absent from the classroom. We need to add to this group! If you have even a spark of interest in subbing in a class room at Rose Park, or you know of someone who may be interested, please reach out and email Carla or email Laura in the office 616.820.4055. Subbing hours can range from a few hours, to a full day form 8am-3:15pm. If it is your preference to sub only at Rose Park, we can make that happen! A teaching certificate is NOT required.
Hot Lunch
Calendar
View the full Holland Christian calendar
January
12: Discovery Night at Rose Park
9-20: MAP & Delta Testing
13: End of 2nd quarter
16: No school MLK Day
20: Report cards available online
February
30-Feb 10: Swim lessons at the Aquatic Center
17: 1/2 day
20: No school