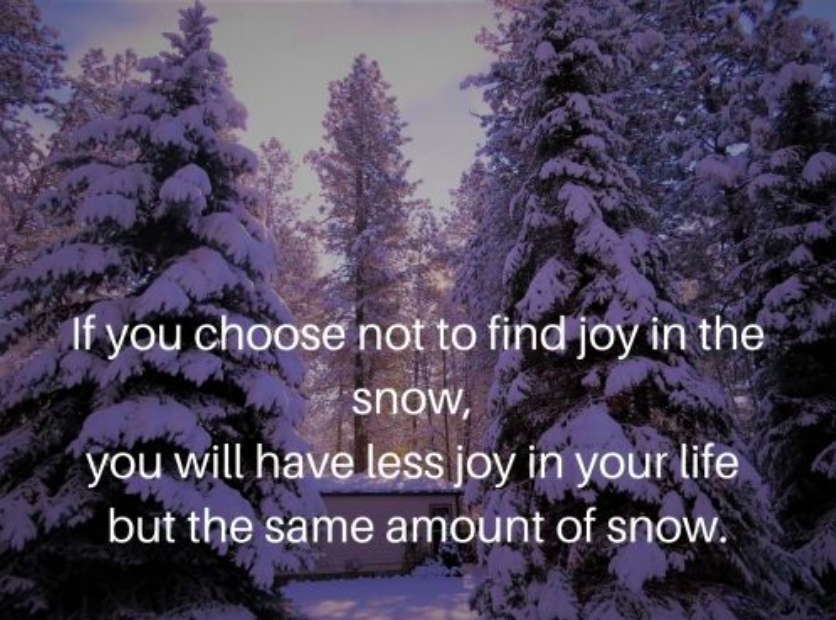 Dear Rose Park Families,
The internet is full of memes and silly viral videos. Most of these images roll right past me. But there was truth in one that popped onto my page recently and perhaps it will resonate with you as well as we walk through these last few weeks of winter.
We teach our children words of Nehemiah 8:10 and even put the truth to music "The joy of the Lord is my strength." May it ever be so for our children and modeled by each of us, even in the chill of the winter, that the joy of the Lord is our strength!
Yours in Christ's service,
Miska
Announcements
Pick-Up Procedures
Thank you, parents and big siblings, for careful driving and mindfulness for the WHOLE community rather than the quick convenience for oneself when moving through drop off and pick up. Our children are safely dropped off and returned to you every day because of everyone's willingness to work for the sake of the whole rather than putting convenience of oneself. I'll offer a quick review because we do have older siblings getting brand new drivers licenses, and others brand new to carpool pick up. We also have a few families whose patterns are changing and I hope the reminder is helpful.
The entrance off James Street is for buses only please at the start and close of the day. Even though it might quicken your own personal pick up or drop off, it's tough for buses to get in and out quickly and safely if cars are also coming and going from James Street entrance as well. Our bus drivers are agreeable to save the Butternut Drive entrance just for you, our car drivers. We ask that our cars not use the James Street entrance only during drop off and pick up hours (8:00-8:20 am and 2:50-3:20 pm) but come and go using the Butternut Drive entrance. Thank you.
The circle drive on the south side of the building is reserved for buses only please. The circle drive to the north side is for cars to pick up and drop off children. This policy can feel like a hard one to adhere to. It is SO tempting to just zip in privately in the open drive to pick up your child and zip right back out. That is obviously so much quicker to bypass the crowd. But, please bear in mind, we have 300 children being dismissed into more than 100 cars. We simply can't manage cars coming and going through both circles. Our poor buses would never stand a chance of moving in or out. Ultimately, our children would not be safe. I understand sitting in the carpool lane takes longer. I've been there myself as a parent. We do appreciate your mindfulness for the whole community and resisting the temptation to allow special privileges for yourself or teaching your child the community expectations don't apply to him/her. We promise to move our children back into your car as quickly as possible so you can hear all about their adventure while at Rose Park!
Thank you for caring for every one of our children!
Rose Park Wacky Wednesdays
Join as we spice up our Wednesdays the month of February!
February 2: Wacky Hat Day
February 9: Wacky Hair Day
February 16: Wacky Tourist/Tropical Day
February 23: Wacky Fan Day (favorite sports teams)
Enrollment Has Begun For 2022-23
We are excited to welcome our youngest learners to Rose Park! Preschool and kindergarten enrollment for the 2022-2023 school year began on February 1, 2022. You can visit our Apply Page now to fill out your online application.
Tulip Time Dance
Tulip Time Festival is thrilled to announce that Kinder and Middel Dutch Dance are happening this year! Practices Kinder (3rd-5th graders) and Middel (6th-8th graders) Dutch Dancers are invited to Join the Dance. Registrations are open now until February 12, 2022. Any student from the greater Holland area in grades three through eight are welcome, no previous experience needed to dance as a Kinder or Middel Dancer. Sign up is simple, choose which ever practice time and location works best for your family's schedule, then register using the link. Kinder registration link: https://tuliptime.com/getinvolved/dutch-dance/kinder-dutch-dance/group-registration Middel registration link: https://tuliptime.com/getinvolved/dutch-dance/middel-dutch-dancers/middel-dutch-dance-registration
T.R.I.P
Are you getting the most help you can for paying your tuition? The TRIP program is designed to help you pay tuition without extra cost to you. Have you checked it out lately? There are so many instant and electronic opportunities now available that make it easier, more convenient, and comfortable to use! Take a quick look at it and see how easy it's become. Give it a try and see if it doesn't lighten your financial load. Help is always just a quick question away. We love to help you make it work for your family. Learn more about on our TRIP page.
Tulip Time Choices
In 2018, Tulip Time reframed their mission statement to read "Mission Statement: To celebrate Holland's tulips, Dutch heritage and community." To better align ourselves with their mission statement as well as with the goals here at Holland Christian, our Rose Park and Forest School students will be given two options for dressing up and walking in the the 2022 Kinderparade. More details will be forthcoming as we get closer to Tulip Time but we want you to be aware of the options well in advance of the Tulip Time season. Our students from Rose Park and Forest School will be given the option of walking in either our new "tulip" section of the parade or our "Dutch heritage" section. The whole of our two groups walking together will be a celebration of our "community."
If your 1st-4th grade student chooses to opt into the "tulip" section of our parade, your child will design and construct his or her own tulip to carry and then dress as a gardener based around our "Rooted" t-shirt. This gardener costume might include gardening boots and gloves, overalls, a wide-brimmed hat, etc. Anything you have handy at home that helps your child look like a busy gardener tilling the tulips will fit the part perfectly!
Students who opt into the "Dutch heritage" portion of our student body will wear their own Dutch costume and carry the parade props our Rose Park students have carried in the past.
All of our students from Rose Park and Forest School will be walking together as one big community in the aforementioned subsets. More details about logistics, costumes and timing will be coming soon. Don't hesitate to email Miska with questions or wonderings at mrynsburger@hollandchristian.org.
Winter Gear
We have had some cold and now snowy days! We would like to request that students have the extra winter clothing needed for the winter months: boots, snow pants, mittens, hat. We have limited items at school to loan students, but if there is a large number of students borrowing items, we deplete the inventory quickly. Thank you for making this a priority for your child's health and warmth.
If you happen to have any extra Mittens & gloves we'd love to have them donated to our stash as we currently only have a couple pairs to loan out.
Illness
Winter has arrived along with Covid, colds and flu! We continue to use precautions at school such as diligent hand washing and wiping down of surfaces. We would love your help in keeping our kids healthy and in school. Please continue to be aware of symptoms your child may experiencing. If your child has the following symptoms, please keep them home:
Vomiting
Diarrhea
Fever (over 100.3)
Fatigue and chills
Loss of taste and/or smell
Your child needs to be free of these symptoms for at least 24 hours. For fevers, your child must be fever free without the use of fever reducing medicine for 24 hours. If your child will not be present at school, please let our office know at 616.820.4055.
Hot Lunch
View the February Hot Lunch Menu. Lunch will be free as well with all the favorite options as before! To see all food service options for all our schools see the back to school food service options flyer.
Boys Lacrosse Club
Holland Christian offers boys lacrosse as a spring club sport opportunity for students currently in grades 3-8. There is a 3rd/4th team, a 5th/6th team and a 7th/8th team that compete from the end of March to the end of May. Register today through our "Active" registration, which is the same registration link as HC summer camps. If you have any questions, please email Micah Kool at mkool@hollandchristian.org.
Girls Running Club
One day when spring returns….3rd-5th grade girls running club will be offered! Girls will train March 15 until May 5. The culminating event to celebrate their hard work and training will be to run the Tulip Time 5K on May 7! Practices will be Tuesday and Thursday after school from 3:15–4:30 pm. Sign up will be until Fri. Feb 25th. For more information contact Sarah Dangler at 616.403.8761 or csdangler@yahoo.com.
TTQ 3RD-5TH Boys Running Club
Here is more information regarding the 3rd-5th grade boys running club.
Parent-Teacher Conferences
Parent-teacher conferences are coming up March 28 & 30, from 4-8 pm each day. You will receive an email with instructions on how to register for conferences in a few weeks. (The elementary parent-teacher conference dates on the all-system monthly newsletter are incorrect, while these are correct!)
Calendar
View the full Holland Christian calendar
February
1: Preschool & kindergarten enrollment begins
21: No school: Presidents Day
March
5: Kid Stuff Resale
18: End of 3rd quarter
25: Report cards available
28: Parent Teacher Conferences
30: Parent Teacher Conferences
April
1-10: Spring break
21: Grandparents Day and Spring Program