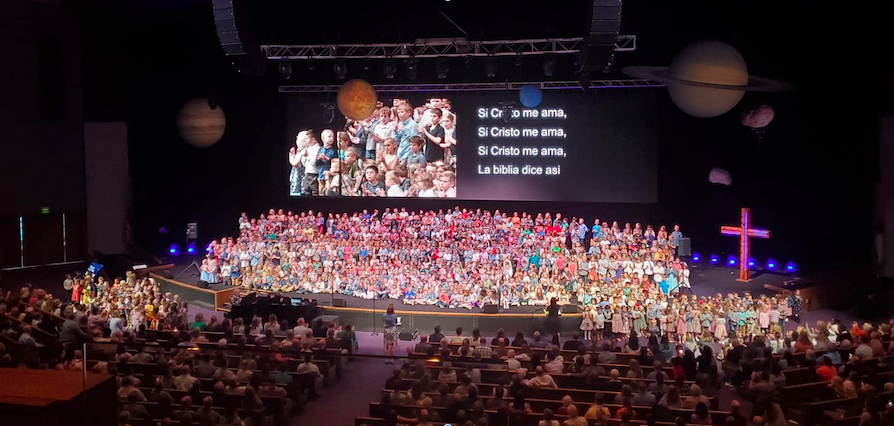 Cristo me ama, La Biblia dice asi! We are so blessed, friends! What joy to search our city for a stage large enough to hold ALL of our HC elementary children once we decided to bring back the Spring Program for both sides of town! An enthusiastic children's choir 800 voices strong must be a little bit like the pure love and joy found in Heaven. Thank you for graciously bringing your child to the overly busy waiting rooms, finding a seat somewhere in the worship center and allowing us to come ALL together and worship our Jesus! Yes! Jesus Loves the Little Children! They bless us every day! 
Yours in Christ's service,
Miska
Announcements
Meet our newest Rose Park teachers!
Meet Hannah Damsteegt!
I am an enthusiast of the Spanish language and the culture of countries in which Spanish is spoken. I graduated from Calvin University in 2015 and started my first teaching job. In 2016, I was hired to work at International School Tegucigalpa located in the capital city of Tegucigalpa, Honduras. I worked as a 3rd grade homeroom teacher, teaching English to my students. While there, I furthered my educational journey by completing a master's degree in Inclusive Education with an Extension in Bilingual Education with Nyack College. I am passionate about teaching and forming young minds while using a foreign language as the vehicle to do so.
I chose to work at HCS because I believe and resonate with the Christian Reformed worldview that everything points back to God. I believe in the importance of a Christ-centered education for students. I want to play a role in preparing and equipping the minds of our students so that they may go off into the world ready to love and serve the Lord and then reciprocate Christ's love to others.
Working in Spanish Immersion allows me to share God's gift of language with young minds. Learning a foreign language allows one to better interact with others in our community who speak that language. Looking at this from a Christian perspective, we are more equipped to live with one another in shalom while bringing God's transformative touch with us as we love our Neighbor as ourselves.
Outside of the classroom, I enjoy working out, trying out new recipes in the kitchen, and buying new succulents. 

And Maestra Sanchez will serve in a new role next year!
I am from Venezuela, where I received an Associate in Special Education with mention in Learning Difficulties (1995) and later received my Bachelor's degree in the same specialty (1999). For 19 years I had the opportunity to teach in many schools (public and private K-HS) as specialist teacher, Christian Formation teacher, 3rd grade teacher, music instructor and craft teacher. My husband and I have three beautiful daughters who are now young adults and with whom I moved to Holland in 2019. With my husband, who was pastor and ministerial leader, we served the Lord in part-time and full-time ministry in various areas: Education Christian, worship leader, chorus, missions and counseling. In 2006, we founded a church in Venezuela that has now been serving our community for 15 years. 
Since last year, I have been working alongside Maestra Cantú in Rose Park's Spanish Immersion program. I also work as a paraprofessional assisting individual students. God has blessed me so much in Rose Park; He surrounded me with wonderful people who encourage me to learn every day through their support and professional mentoring.
I am very excited  for the new school year to begin  to continue bringing  the hearts of our children closer to the heart of God meanwhile they improve their academic development and skills.


Tulip Time
On Thursday, May 12, our 1st-4th graders will participate in the Tulip Time Kinderparade. We will have a normal school schedule in the morning. Preschoolers will be dismissed at their normal time (11:15) with no afternoon enrichment. Kindergarten and 5th graders will be dismissed at 11:30am. Students in grades 1-4 will remain at school, until we load the busses to head to the parade route. They will eat lunch at school before heading to the parade. There will be no hot lunch.  
An information sheet and pick up slip was sent home with your child. Please return this slip to your child's teacher ASAP. Thank you.
Yearbook Orders
Our 2021-22 yearbooks will be distributed the last week of school to those who ordered them. These orders were placed during our school picture days. If you missed ordering your child a yearbook for this year, and you would still like to, you may still order it through Geskus.
2022-23 Before and After School Care
If you are interested in using the Before and/or After School Care Program for the 2022-23 school year, please follow the links below. The program is for students in Preschool- 5th grade. If your child(ren) attends South Side and/or Pine Ridge, then you will need to fill out the form for South Side. If your child(ren) attends Rose Park, then you will fill out the form for Rose Park. If you have any questions, please contact Tammy Grassmid at tgrassmid@hollandchristian.org.
Kindergarten Visit Day 
On Friday, May 20, we will be welcoming our newest group of kindergarteners to Rose Park for a visit! The incoming kinders and their parents will meet at Rose Park from  9-10am. Families who enrolled should have received an email with more details. 
Hot Lunch
View the May Hot Lunch Menu. Lunch will be free for this last month, with all the favorite options as before!
Calendar
View the full Holland Christian calendar
May
11: 1/2 day for Tulip Time
12:1/2 days for Tulip Time 1st-4th parade
17: 4th-12th grade orchestra concert 7:00-8:30pm
20: Kindergarten visit day 9-10am
30: No school for Memorial Day
31: Elementary field day 
June
3: Last day of school, 1/2 day