Dear Rose Park Friends,
I have an important staffing announcement to share with you and apologize in advance for the length. I hope you find the illustration helpful and honoring of this dear person we love.
While in Israel a few year ago, I learned that City Gates were often the only access point to the heart of the community that was distinct to God's people. Archaeologists have noted that cities not built by people from other cultures were surrounded with the remnants of people who were homeless, orphaned, diseased or otherwise marginalized. These people were left out of the life enjoyed inside the city walls in communities not constructed around the directive of our God. Cities built by God's people did not have remnants of the marginalized outside of the walls. Rather, the orphans, the sick and the poor were brought into the city, inside the walls. They were welcomed through the City Gates and cared for.
Each of us are called to live as City Gates for God's Kingdom here on earth. We are to be welcomers to God's Kingdom. To create a home for the homeless. To offer wholeness to the broken. To offer family to those without.
I'd like to ask you to focus on one of our special teammates who truly does sit at our gate at Rose Park. I'd like to ask you to reflect for a moment on our friend Mrs. Carla Chase. For 10 years, God has equipped and called this special servant, Carla, to sit at one of his City Gates. Specifically at Rose Park. In this role, Carla has served God so well as a servant and welcomer at our front door. Carla knows and cares for people. She laughs with others in the joy-filled moments and truly shares the burden and heartache of those who are hurting. Carla's love for children, families and staff is extraordinary. Carla is faithful and faith-filled.
Over the past few months, Carla has prayerfully made a difficult decision. Carla has shared her decision to step down from her role at our Rose Park City Gate and take a new position at a different school. This is a hard decision. Carla LOVES our people, she is excellent at the work and has flourished in this role God has called her to at Rose Park. In short, she has been a tremendous blessing to me and I know to each of you. To say that we will miss Carla next year is a tremendous understatement. We simply won't be the same without her.
I am so grateful for my Rose Park family. It has been a joy to walk with an amazing staff, and wonderful families these last ten years. Rose Park has had my heart and I am grateful to have had the privilege to serve our Rose Park community. I am excited to watch "my" Rose Park kiddos continue to grow and transform the world for Christ, just from a different view point. Our RP kids are SO loved and I will miss them!  -Carla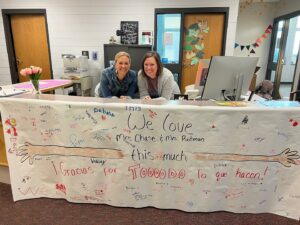 I pray a safe, healthy and fun-filled summer full of more warm memories to appreciate together.
All joy and thanksgiving,
Miska
Announcements
Welcome Maestra Fuentes!
We have a new fifth grade teacher joining our family at Rose Park next year! Maestra Keren Fuentes will join our fifth grade team teaching our students in our Spanish Immersion program. She comes to us with 27 years of teaching experience, oodles of creativity and skill and a beautiful faith walk to share with our children. Her own children are members of our Holland Christian High School family. Maestra Fuentes, welcome to Rose Park! We can't wait to share all of the joy, work and beauty taking place in our school!
Class Lists and Staffing Details
We are waiting for enrollment numbers to be finalized in order to confirm section numbers and teachers at each grade level. As soon as I am able, I will share teacher's names with you in all of our kindergarten through fifth grade classes. Our expectation is to publish class lists for you early in July. Thank you for your patience and trust in this important process.
Medication Pick up
If your child has medication at school, an email will be coming to you regarding pick up. Medication is not stored at school through the summer. All medications need to be picked up by our last day of school, Friday June 2.
Yearbook Orders
Our 23-24 yearbooks will be distributed the last week of school to those who ordered them. These orders were placed during our school picture days. If you missed ordering your child a yearbook for this year, and you would still like to, you may still order a yearbook through Geskus.
Enrollment & Medical Paperwork 23-24
All students entering preschool, kindergarten, and new transfers have a variety of paperwork that needs to be filled out and turned in by August 4, 2023:
Please be sure your child entering these grades is up to date on all immunizations, and if you are pursuing an immunization waiver through your county health department, please call them for an appointment ASAP as appointments fill up quickly, and it needs to be done before attending the first day of school.
Waiver Information:
If your child with a waiver is returning to Holland Christian for the 23-24 school year and moving from:
3s preschool to 4s preschool: Current waiver on file is good unless you have chosen to complete a vaccine series during the year that was waived on the waiver.
3s/4s preschool to Young 5s: New waiver needed; please schedule an appointment!
4s preschool to kindergarten: New waiver needed; please schedule an appointment!
Young 5s to kindergarten: Current waiver on file is good unless you have chosen to complete a vaccine series during the year that was waived on the waiver.
If your child is a new student coming to HC from a different school district, your old waiver is invalid and you will need to schedule an appointment.
Contact the Rose Park office if you have any questions 616.820.4055.
Rose Park Office Hours
June 6-9: The office will be open from 9am-3pm to assist parents. Monday, June 5 the office will only be closed due to an off-site staff meeting.
August 1: The office will reopen daily from 9am-noon, and then resume regular office hours when school begins.
Class lists
The 23-24 class lists will be available and sent out via email in early July.
Rose Park Lost & Found
Please take a minute to look our Lost and Found photo Album to see if any of these items belong to your student. Feel free to email Carla  or email Laura to claim your items and we will make sure to get it in your student's backpack. These items will be donated soon. Also, please make sure to bring your child's snow stuff to school every day or leave an extra set at school. In Michigan, the weather can change quickly and we want to make sure your child is warm and comfortable in their outdoor play! Our office has a limited supply of items. If your child borrows an item, we will send it home to be washed and returned for other students to use. We are always looking for extra gloves to add to our supply!
Calendar
View the full Holland Christian calendar
June
2: 1/2 day: Last day of school
2: Report cards available on Powerschool
August
15: Preschool Meet the Teacher Night
17: Ice Cream Social 6pm
22: First day of school!
24: Parent Information Night 6:30pm
30: Convocation