It's nearly time, friends! Our classrooms and learning spaces are once again coming to life! We are SO grateful for the hard work and creative dedication put in over the summer months by Mrs. Westfall and her cleaning crew team. They have worked diligently to deep clean Rose Park and we are happily spic and span waiting for your child! You'll note the new facelift around our grounds as well! We're grateful for updated landscaping that took place over the summer months! And? Our Rose Park Ranch! It's currently taking shape both in construction and in the plans for this school year! Thank you for your patience as we finally get to usher in this new adventure into the school life of your child. To say that we are all excited would be a massive understatement!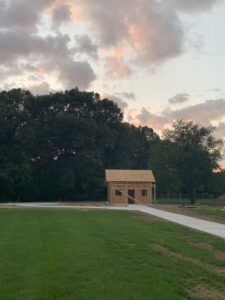 The theme we will be unpacking together as a school community this year is "Streams of Living Water". Our children will hear the words Jesus spoke at the Festival of Tabernacles found in John 7:37-38 'Jesus stood and said in a loud voice, "Let anyone who is thirsty come to me and drink. 38 Whoever believes in me, as Scripture has said, rivers of living water will flow from within them." and apply this truth to their lives. As our dear children's parents and teachers, we are encouraged to bask in this truth as well. When we come to the water and receive LIFE from our Jesus, we are made whole and belong fully to God. Please pray regularly with us that our children grasp this deep truth and make it their own in their lives during this year and all that God has in store for them in their lives. 
In order to launch this year smoothly and help you be well informed, please take a peek at the dates and important information below. See you soon!
Yours in Christ's service,
Miska
Announcements
First Day of School – 1/2 day!
Our first day of school for Pre-K-5th grade is Tuesday, August 23. Dismissal for Preschool is 11:15, and K-5 is 11:30.
3 day Kindergarten and 3 day preschool begin on Wednesday August 24.
Class Lists
Class lists have been updated!  We are welcoming new families to Rose Park. Take a peek.
School Supply Lists 2022-2023
School supply list for 22-23 are updated!
Tuesday, August 16th 6:30-8:00 Preschool Meet the Teacher Night
This will be a night where just parents come to meet Mrs. Rynsburger and your child's preschool classroom teacher.  This is a time where you will be able to ask more detailed questions about your child's classroom experience.
Ice Cream Social – Meet the Teacher Night Thursday August 18
It's that time of year again!  Time to gather your school supplies (what ever may have been purchased already), and head to Rose Park to check out your classroom, meet your teacher, and connect with your Rose Park family!  All preschool-5th graders together with your families, come join us at Rose Park from 6:30pm-8:00pm. Be sure to grab an ice cream sundae on the playground.  We are excited to see you!
K-5 Parent Information Night
August 25th 7:00pm-8:30pm. Parents, join us at Rose Park for a time with your child's class room teacher.   This is a time where you will be able to ask more detailed questions about your child's school and classroom experience.
Health Appraisals, Immunizations and Waivers
The State of Michigan requires that your child(ren) be immunized for enrollment at Holland Christian Schools. Each year we must report every student enrolled in preschool, kindergarten, seventh grade, and those that are new to our district. Please review the Required Childhood Immunization Schedule set forth by the State of Michigan.
Please also note that the State of Michigan has revised its law on immunization waivers.
If you intend to complete a non-medical waiver to the immunization policy, you must contact the Ottawa County Health Department at to schedule an appointment to speak with a health educator, complete the waiver process and submit the original certified waiver to the school office.
The original certified medical waivers must be completed and signed by a physician then submitted to the school office.
Written evidence that immunizations are now up to date or a copy of a certified waiver must be received before the start of the school year and is due by or on the first day of school. A new waiver is required each year that your child is reported (preschool, Kindergarten, 7th grade) This will allow for proper processing prior to the first day of classes.
Before and After School Parking Lot Procedures
It is the beginning of a new school year, and a good time to introduce our parking lot procedures to our new families, and remind our current families of the procedures!
The circle drive on the south side of the building is reserved for buses only please. The circle drive to the south side is for cars to pick up and drop off children. This policy can feel like a hard one to adhere to. It is SO tempting to just zip in privately in the open drive to pick up your child and zip right back out. That is obviously so much quicker to bypass the crowd. But, please bear in mind, we have 300 children being dismissed into more than 100 cars. We simply can't manage cars coming and going through both circles. Our poor buses would never stand a chance of moving in or out. Ultimately, our children would not be safe. I understand sitting in the carpool lane takes longer. I've been there myself as a parent. We do appreciate your mindfulness for the whole community and resisting the temptation to allow special privileges for yourself or teaching your child the community expectations don't apply to him/her. We promise to move our children back into your car as quickly as possible so you can hear all about their adventure while at Rose Park!
The entrance off James Street is for buses only please at the start and close of the day. Even though it might quicken your own personal pick up or drop off, it's tough for buses to get in and out quickly and safely if cars are also coming and going from James Street entrance as well. Our bus drivers are agreeable to save the Butternut Drive entrance just for you, our car drivers. We ask that our cars not use the James Street entrance only during drop off and pick up hours (8:00-8:20 and 2:50-3:20) but come and go using the Butternut Drive entrance. Thank you.
Hot Lunch – New Procedures
Students at Rose Park  have received free snacks and lunches through the USDA Covid Relief Program for the last few years.  That program ended with the 2021-22 school year. Families once again are responsible for suppling snacks for their student(s) to eat during the school day. Please send one to two nutritious snack items along with a water bottle to school each day.
Holland Christian will be  offering lunches for purchase for preschool through fifth grade during the 2022-23 school year. Kindergarten through fifth grade will place their lunch order for that day's hot lunch option in their classroom each morning. Chocolate or White milk is included with hot lunch. Student may choose to order milk only to accompany their home lunch.
Full-day preschool students need to pre-order their selection of sack lunches for the week by the start of the day on Monday mornings (or the first day of school that week). There is a set menu for preschool and will be sent out via a Google form from your student's teacher each week.
Detailed information about our new Hot Lunch Program is found on our flier, including menus, pricing, how to apply for free or reduced lunches, and how to deposit funds into your child's hot lunch account.
Prescription Medication Authorization
Medications may be administered at school by school personnel when necessary for school attendance.  If your child is in need of medication during the school day, our office will administer medication that is brought into the building by an adult with a school Administration of Medication Consent Form that has been completed by the parent and physician.
Absences
Please call the school office at (616) 820-4055 any time before 8:30 am to let us know each day when your ch.ild will be absent. You may leave a voicemail any time and it will be checked in the morning when the office opens.
Transportation
Busing is available for students needing transportation to and from Rose Park school. There is a fee involved. For complete busing details and to register, please visit our Transportation page.
Student Safety
After the school day is underway, all doors except the main entrance will be locked. All students who arrive late for school must stop in the school office. Parents are asked to sign children in and out at the school office if they are coming or going any time within the normal school hours.
Picture Days
Our Rose Park Picture days will take place on September 14 and 15.  Our retake day is October 26.
PowerSchool
PowerSchool is our student information database.  You will want to bookmark this site! There is also an app available for PowerSchool for your phone which can be very helpful. PowerSchool parent information, including passwords and usernames, will be e-mailed to parents at the beginning of the year or provided to you upon enrollment if you enroll mid-year. If there is a change in your phone number or address any time during the school year, it is important that are informed right away. Parents can update their information on PowerSchool directly on the Demographics Change tab. This assures up-to-date contact information for your child.
You must update your demographic information in Powerschool each fall with your latest and most accurate contact information. Simply login, then either an "update demographic screen" will automatically pop up, or simply click the "change demographics" button on the left of the screen. This information is necessary for field trip participation, emergency response and treatment, student photo permission, and for the office to easily be able to contact a parent or guardian as needed or desired. When listing your child's emergency contacts, please be sure to list two contacts other than yourself.
Elementary Handbook
The Elementary Handbook is a great resource for parents providing important details on things like our curriculum, discipline policy, etc.
Moms In Prayer
Moms in Prayer is a great way to connect with other moms, to pray for your child, and have an impact on the community of Rose Park.  We are looking for someone to head up this wonderful opportunity to facilitate moms (or dads or grandmas or aunts or grandpas!) who want to join together and pray.  If you are curious what this opportunity would look like, we can connect you with the leader for Moms In Prayer  for South Side, Pine Ridge and Forest School.  Please let Carla or Laura in the office know if you would like to receive more information.
Rose Park Office Hours
August 1-12: The office will reopen daily from 9:00-1:00, and then resume regular office hours begin August 15.
2022-23 Before & After School Care
Our Before & After school program is currently full, but if you are interested in using the South Side/Pine Ridge Before and/or After School Care Program for the 22-23 school year, please email Tammy Grassmid to join the the waiting list.. The program is for students in preschool- 5th grade.
 Calendar
View the full Holland Christian calendar
August
16 :Preschool meet the teacher night 6:30pm-8:00pm
18: Ice cream social
23:  First day of school!!
25: Parent information night 7:00pm-8:30pm
31:  All school Convocation
September
2: No school
5: No school Labor Day
16: 1/2 day- Teacher PD
14-15: Picture day
28: Walkathon
October
17: Parent Teacher Conferences 4:00pm-8:00pm
19 – Half day of school – Parent Teacher Conferences
20-21: CEA Convention – No School
26: Picture Day Retakes