A few weeks ago, in a conversation with a Rose Park parent, the parent shared that when he brings his children to school he feels a similar warmth as when he brings his children to Grandpa and Grandma's house. He knows his children are known, loved and deeply enjoyed at Rose Park. I pray that every child and every family feels this same warmth, welcome and love at Rose Park. Our faculty and staff also give our all to providing the best academic experiences and robust learning opportunities well suited for each child's needs that they will each realize the potential God has packed inside of them. We appreciate the conversations with you and your feedback in order to shape the environment to be well-suited for every single child. We listen, learn and I hope we're improving all the time. This is the work God calls us to engage in. Together! God created a natural learner in every one of our children. It is our joy to fill their days with love for God, for others, for themselves and with a love of learning!
Rosie and Parker have quickly become part of our excitement in learning and loving at Rose Park! Every child is enjoying the opportunity to work at barn chores and caring for these furry cuties. We're now beginning to embark on the greenhouse phase of our Ranch. We are so grateful for a community that entrusts us with each dear child and believes in our vision to create a robust, active learning continuum for each child in our Rose Park family!
Yours in Christ's service,
Miska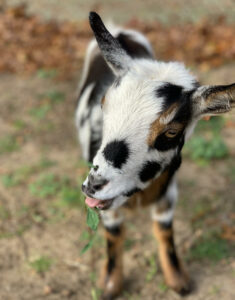 Rosie is a well-loved critter!
Hace unas semanas, en una conversación con un padre de familia de Rose Park, el padre compartió que cuando lleva a sus hijos a la escuela se siente casi igual que cuando lleva a sus hijos a la casa del abuelo y la abuela. Él sabe que sus hijos son conocidos, amados y profundamente disfrutados en Rose Park. Ruego que cada niño y cada familia sienta esta calidez, bienvenida y amor en Rose Park. Nuestra facultad y personal también dan todo de nosotros para brindar las mejores experiencias académicas y sólidas oportunidades de aprendizaje que se adaptan a las necesidades de cada niño. Agradecemos las conversaciones con usted y sus comentarios para que podamos dar forma al entorno para que sea adecuado para cada niño. Escuchamos, aprendemos y espero que estemos mejorando todo el tiempo. Esta es la obra a la que Dios nos llama a participar. ¡Juntos! Dios creó un aprendiz natural en cada uno de nuestros niños. ¡Es nuestra alegría llenar sus días de amor a Dios, a los demás, a sí mismos y con amor por aprender! ¡Rosie y Parker se han convertido rápidamente en parte de nuestro entusiasmo por aprender y amar en Rose Park! Todos los niños disfrutan de la oportunidad de trabajar en las tareas del granero y cuidar a estas bellezas peludas. Ahora estamos comenzando a embarcarnos en la fase de invernadero de nuestro rancho. ¡Estamos muy agradecidos por una comunidad que nos confía a cada niño querido y cree en nuestra visión de crear un continuo de aprendizaje sólido y activo para cada niño en nuestra familia de Rose Park!
Suyo en el servicio de Cristo,
Miska
Announcements
Share in the Farming Fun
If your family would like to participate in the barn chores during the evening and weekend, you're invited to sign up to be a "farmer for a week." I'll send you our training video prior to your week, but truly this will be a leadership opportunity for your child to teach your family how to care for the animals and keep the chores tended to on an evening or two and on the weekend. If you'd like to sign up, the basic need is checking in on the animals on Saturday and even on Sunday to ensure they're fed, have clean water and clean bedding. Any evening chores is a bonus! Once we have a rhythm with Rosie and Parker, we'll add our three egg-laying hens!
Here's the linke to sign up to be a farmer for a week. You'll note our year is full so I've added a second family slot for each week. There's plenty of work to go around, and we'd love to have you join us!!
Maroon & White Pop-Up Shop
HC gear is a wonderful Christmas gift! Shop the Maroon & White Shop at Rose Park on Thursday, December 1 from 2-4:30pm and Friday, December 2 from 7:45am-4:00pm. Happy shopping!
Kindergarten Cookie Sale
Our kindergarteners will be having their annual cookie sale on Thursday, December 8. Grab your quarters and join us in the Intersection at Rose Park at 10am. Cookies will be .50 cents a piece. All proceeds will bless Samaritan's Purse and Operation Christmas Child.
For the Art Room
Mrs Luce is looking for 100 clean single adult sized socks for puppets in art. Do you happen to have some lying around your home you may be willing to donate? Thank you!
Rose Park Lost and Found
The weather is changing and our Lost and Found is growing! Please take a minute to look our Lost and Found photo Album to see if any of these items belong to your student. Feel free to email Carla cchase@hollandchristian.org or Laura lrotman@hollandchristian.org to claim your items and we will make sure to get it in your students backpack. These items will be donated soon.
Also, please make sure bring your child's snow stuff to school everyday or leave an extra set at school. In Michigan, the weather can change quickly and we want to make sure your child is warm and comfortable in their outdoor play! Our office has a limited supply of items. If your child borrows an item, we will send it home to be washed and returned for other students to use. We are always looking for extra gloves to add to our supply!
Discovery Night at Rose Park
Do you or any of your friends or extended family have a prospective preschooler or kindergartener? Are you looking into options for the 2023-2024 school year? We'll be having our Discovery Night on January 12 from 6-7pm, and we'd love to have you come and explore Rose Park's preschool and kindergarten programs! Since we prepare individually for each family visiting this Discovery Night, an RSVP for the Discovery Night is required.
If you are unable to make it to Discovery Night, you are still welcome to visit Holland Christian Schools in person and see things in action for yourself. Feel free to schedule a campus tour through our Admissions Department at admissions@hollandchristian.org or 616.820.2806. You can begin by filling out our Inquiry Form. Enrollment for the 2023-24 school year begins on February 1, 2023.
Favorite Things
Our Parent Team has compiled a list of our Rose Park Staff's favorite things. If you are looking for ideas of ways to show your appreciation to your child's teacher, this list may help you!
Christmas Break
No school December 19-January 2 for Christmas break!
Little Maroons Basketball
Little Maroons is a Holland Christian winter basketball opportunity for kindergarten-6th graders to develop in both skill and game play. Grades 5-6 have three clinics before Christmas to prepare for their local 5-6 league run through City of Holland Recreation. Register through Active for the Holland Christian sessions and clinics.
Substitute Need
Help needed!! Rose Park has a handful of WONDERFUL individuals who faithfully jump in and help us fill in for teachers and aides who need to be absent from the classroom. We need to add to this group! If you have even a spark of interest in subbing in a class room at Rose Park, or you know of someone who may be interested, please reach out and email Carla or email Laura in the office 616.820.4055. Subbing hours can range from a few hours, to a full day form 8am-3:15pm. If it is your preference to sub only at Rose Park, we can make that happen! A teaching certificate is NOT required.
Hot Lunch
Calendar
View the full Holland Christian calendar
December
5: 4th-8th grade Band and Orchestra Christmas concert 5-8pm
8:  Kindergarten Cookie Sale 10am
13: Spanish Immersion Christmas Concert 6:30-8:00pm
19-Jan 3: Christmas Vacation
January
12: Discovery Night at Rose Park
9-20: MAP & Delta Testing
13: End of 2nd Quarter
16: No School MLK Day
20: Report cards available online