To be a community that pursues hope & truth excellently, artistically, & humbly
The Sound of Music
Holland Christian High School
November 16-18 @ 7pm & Nov. 18 @ 2pm
This fall, Holland Christian Theater is producing one of the most beloved musicals of all time: The Sound of Music! In Austria, 1938, an exuberant young governess brings music and joy back to a broken family. But as the Nazi forces take hold of Austria, Maria and the entire von Trapp family must decide between keeping their new family safe, or making a courageous and extremely dangerous stand for their beliefs.
Purchase Tickets
About Our Programs
Fall Musical
A full-scale musical season is held each fall, with auditions in August and performances in mid-November. There are performance opportunities for student actors, singers, and dancers. We don't do cuts for the musical, so if you want to be on stage, you can be! There are also a wide range of opportunities backstage in set construction, costuming, lighting and sound, etc., all chaired by students in leadership roles. The pit orchestra is a hit for student musicians as well.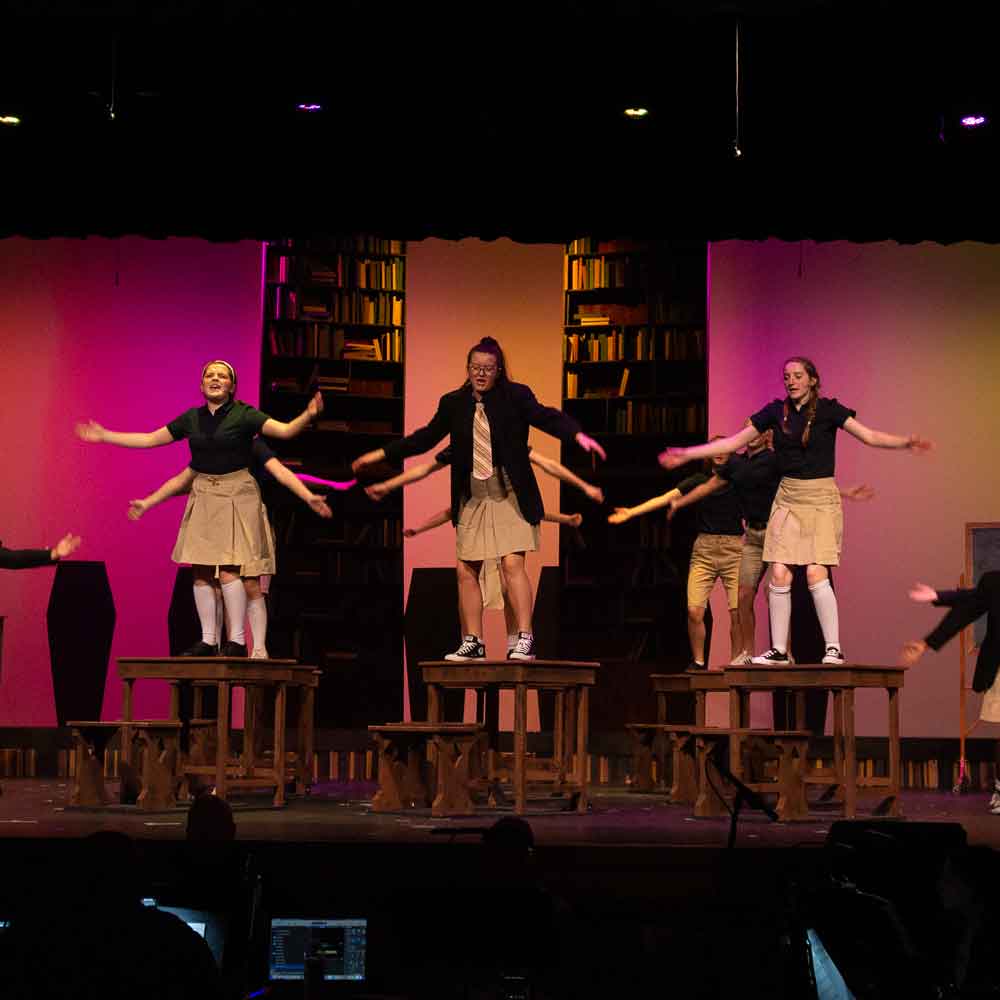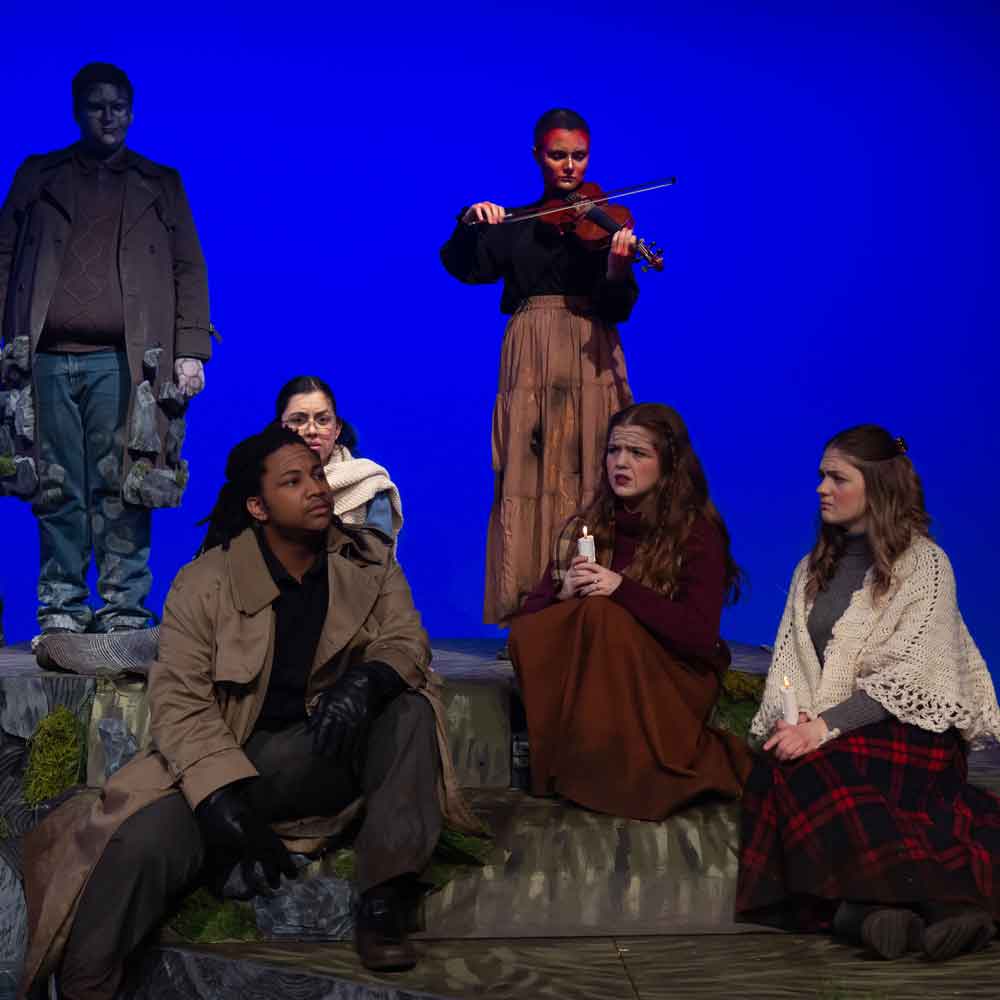 MIFA One Act Competition
MIFA One Act runs as a subset of The Michigan Interscholastic Forensics Association, a state-wide theatre organization. It is our varsity-level, traveling performance group and is open to student performers and backstage crew members. The season runs from December to mid-February with several travel weekends.. This group also participates in the Mid-Michigan Theater Arts Festival in Bay City, Michigan. The genre of performance rotates each year between comedy and drama.
Read more about MIFA
Spring Play
Our Spring production is a non-musical play running from February to late April. Students can audition for onstage roles or work backstage on various crews. The genre of performance rotates opposite of MIFA One-Act, between comedy and drama.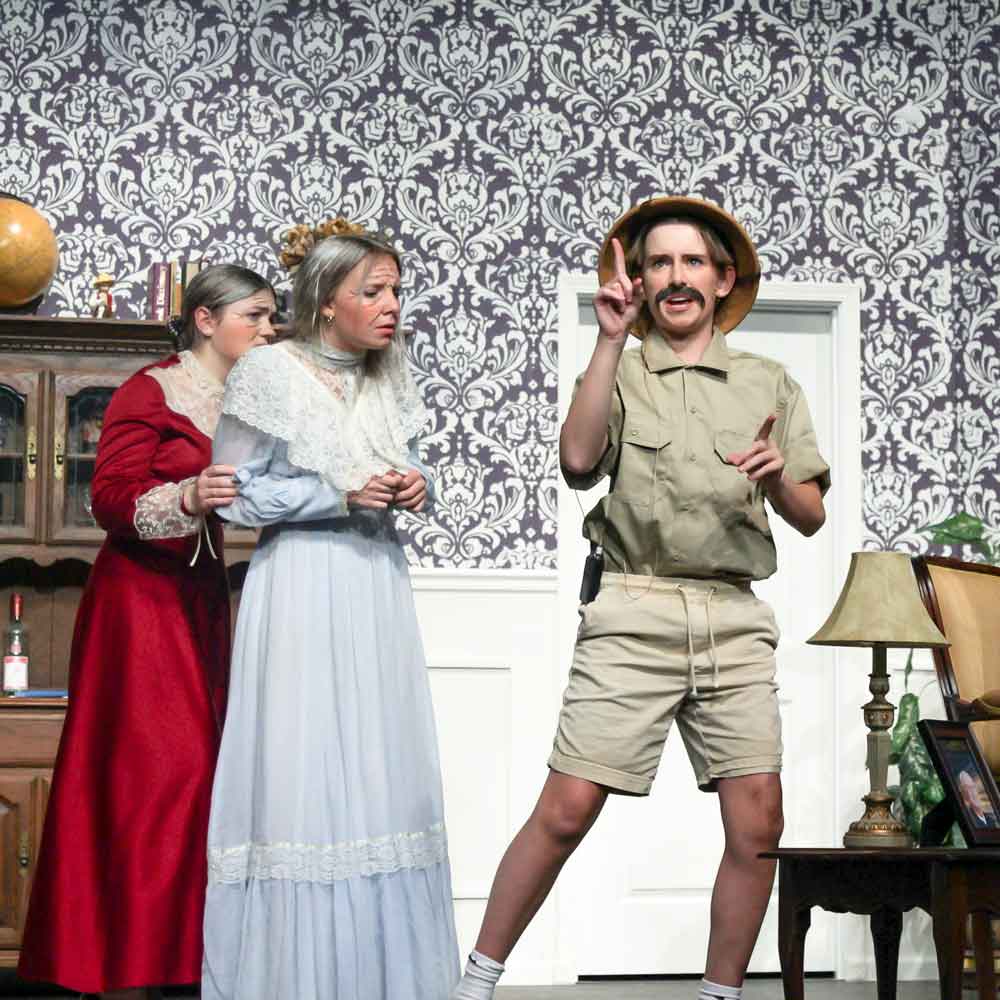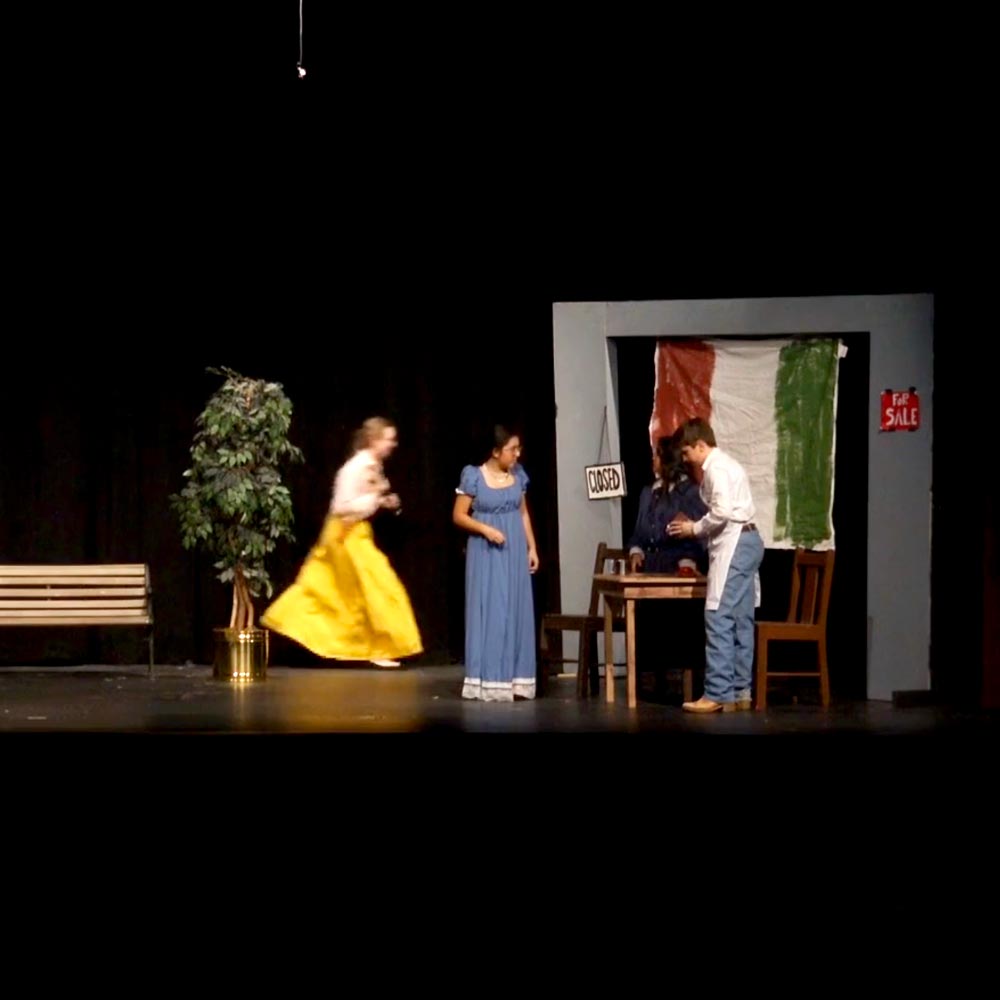 24 Hour Theatre
A favorite of the theatre season, 24-Hour Theatre is a student written, directed, designed, and performed event of short plays. Student writers come in on a Friday evening and write several short plays overnight. The next morning, student directors, designers, and actors arrive and work on the productions all day. The 24-hours culminate in a Saturday evening performance for a live audience. Typically this event falls in early December.
Forensics
HCHS offers a public speaking and dramatic performance group, which is open to all students. Students can pick from individual events such as sales speaking, broadcasting, impromptu speaking, poetry, prose, and storytelling. We start rehearsing in the winter and attend regional and state-wide competitions from March to May. It is a great way to meet students from other schools and grow individually as performers.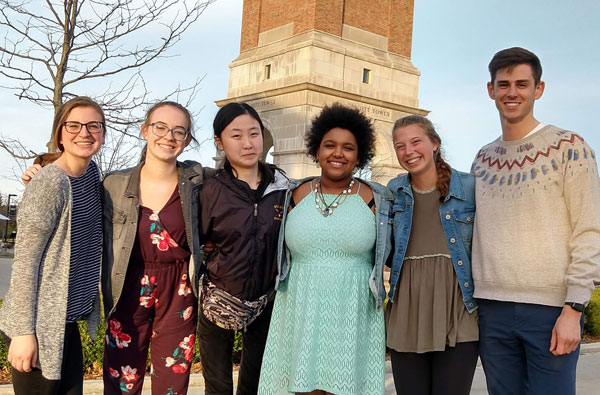 *Titles marked with an asterisk designate a win in the MIFA One Act state championship.
2022-2023: Matilda, Women of Lockerbie*, Arsenic and Old Lace
2021-2022: Freaky Friday!, Emma*, 12 Angry Jurors
2020-2021: Holes, Charley's Aunt, Les Misérables
2019-2020: Joseph and the Amazing Technicolor Dreamcoat, Spoonriver Anthology, COVID Cabaret
2018-2019: Cinderella, Much Ado About Nothing*, Yellow Boat | Steel Magnolias
2017-2018: RAGS, Silent Sky*, The Westing Game
2016-17: Footloose, Lend Me a Tenor*, Pride & Prejudice
2015-16: Godspell, Dogfight, You Can't Take it With You
2014-15: Music Man, Shakespeare in Hollywood, Wrinkle in Time
2013-14: Fiddler on the Roof, Wit*, Rumors
2012-13: Once Upon a Mattress, The Government Inspector, The Crucible
2011-12: Bye Bye Birdie, Diary of Anne Frank, Fools
2010-11: Guys and Dolls, Suds, The Elephant Man
2009-10: Joseph and the Amazing Technicolor Dreamcoat, Rags*, Much Ado About Nothing
2008-09: High School Musical, Noises Off, Flowers for Algernon
2007-08: West Side Story, I Never Saw Another Butterfly, Rumors
2006-07: HONK!, Lend Me a Tenor*, 12 Angry Jurors
2005-06: The Wizard of Oz, The King and I, The Grapes of Wrath, A Midsummer Night's Dream
2004-05: Magician's Nephew & The Lion, Witch & the Wardrobe, Annie, Thieves' Carnival, The Crucible
2003-04: Cheaper By the Dozen, Footloose, The Yellow Boat, Noises Off
2002-03: Anne of Green Gables, Joseph, Scarlet Pimpernel, Grapes of Wrath
2001-02: Importance Of Being Earnest, Blood Brothers, Scarlet Pimpernel
2000-01: Murder's In the Heir, Suds, Fiddler on the Roof
1999-00: The Foreigner & Steel Magnolias, Rags, Oliver
1998-99: Diary Anne Frank/Return Forbidden Planet*/Bye Bye Birdie
1997-98: Charley's Aunt, All About Eve, Rags
1996-97: Musical Comedy Murders 1940, Pippin, Hello Dolly!
1995-96: A Christmas Carol, Ordinary People, Oklahoma!
1994-95: Lend Me a Tenor, Pippin
1993-94: The Miracle Worker, My Fair Lady
1992-93: The Man Who Came to Dinner, Sound of Music
1991-92: I Remember Mama, West Side Story
1990-91: Importance Of Being Earnest, Fiddler on the Roof
1989-90: Rehearsal for Murder, The King and I
1988-89: Imaginary Invalid, Pride and Prejudice
1988: The Death and Life of Larry Benson
1987: Onions in the Stew
1986: We're All Guilty
1985: David and Lisa
1984: The Crucible
1983: Where the Lilies Bloom
1982: Our Town
1981: To Kill a Mockingbird
1980: The Miser
1979: Cheaper by the Dozen
1978: Up the Down Staircase
1977: Diary of Anne Frank
1976: Flowers for Algernon
1975: The Miracle Worker
1974: Charley's Aunt
1973: The Man Who Came to Dinner
1972: Our Town
1971: Another Language
1970: I Remember Mama
1969: A Boy With a Cart
1968: Good Morning, Miss Dove
1967: Pride and Prejudice
Our TAP group, or Theatre Arts Parents, is a group of parents and friends who are dedicated to the promotion and well being of the theatre arts and forensics programs at HCHS. TAP seeks primarily to oversee the raising of monies to support various student-run productions throughout the year, both onstage and in technical support. A second function is to encourage students in a variety of ways and provide opportunities for fellowship between parents and students. TAP members participate in one of five committees (hospitality, decorations, fundraising, prayer & support, promotions) to achieve these goals.
If you love theatre and Holland Christian, then TAP is the perfect place for you. There are many opportunities for involvement throughout the year, especially if your son or daughter is involved in one of its productions. If you are interested in coming alongside HC Theatre and supporting the efforts of those involved in theatre and encouraging its students, please email our TAP president, or contact one of the currant TAP Board members. We love our students and our patrons. Your voice and willing hands are always welcomed!
2022-23 TAP Board
President: Amanda Brouwer
Vice President: Ashley Hernandez
Treasurer: Shanda Sprick
Secretary: Jennifer VanGelder
Decorations Chair: Jenn Smith
Hospitality Chair: Michelle Frieling
Prayer Chair: Wendy Vander Veen
Fundraising Chair: Chanda Slenk
Promotions Chair: Jessica Westra
Photos
We keep an archive of photos from our previous productions and publish them for anyone to access. If you happen to have photos from a production that we don't have, get in touch with Zach at zrumley@hollandchristian.org! We'd love to add your photos to our archive.
Theatre Photo Archive
"I love that my school is a Christian school. I love that we share in worship each week and learn about the world through a Christian perspective; I love my teachers, how they show their faith in their teaching, and are always willing to reach out to me outside of school if I need them.
"The teachers are outstanding and go above and beyond the call to impact my kids.
"The teachers care about their students: they want to help students develop their strengths and understand that they are made in god's image with specific talents and gifts.
"I think holland Christian's teaching staff is a huge strength. The level of care, concern, and character that most of the teachers possess is what makes the HC experience so impactful for our kids.
"No child is just a number. Teachers really know them, understand their strengths and weaknesses, lift them up in prayer, challenge classmates to care about them and for them.
Want to support the HCHS theatre program?
If you are interested in supporting the efforts of those involved in theatre and encouraging Holland Christian Theatre students, please contact the TAP board at tap@hollandchristian.org.
If you are interested in helping to support the theatre program financially, please do so through the donate button below!
Donate to HCHS theatre