To be a community that pursues hope & truth excellently, artistically, & humbly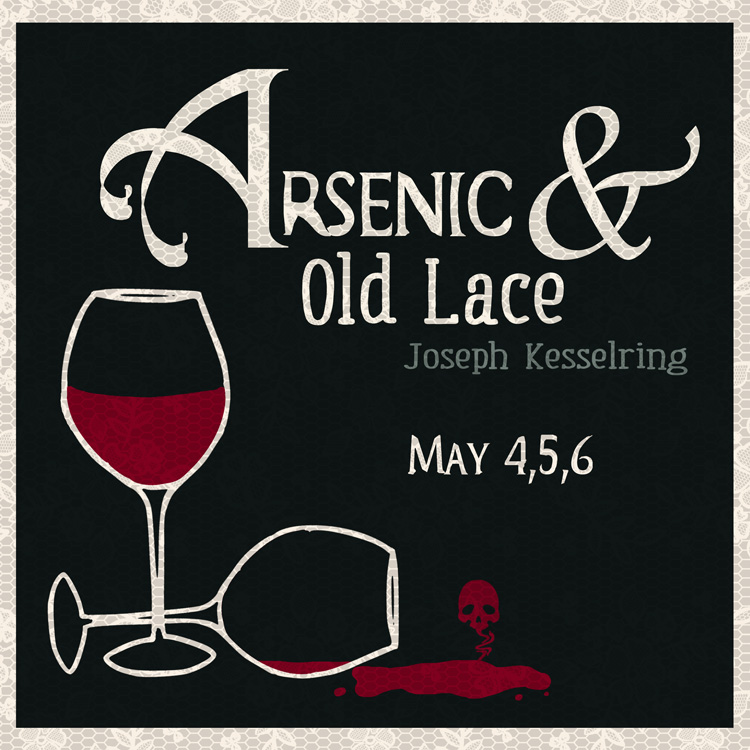 Arsenic & Old Lace
Holland Christian High School
May 4-6 @ 7pm & May 6 @ 2pm
Drama critic Mortimer Brewster's engagement announcement is upended when he discovers a corpse in his elderly aunts' window seat. Mortimer rushes to tell Abby and Martha before they stumble upon the body themselves, only to learn that the two old women aren't just aware of the dead man in their parlor, they killed him! Between his aunts' penchant for poisoning wine, a brother who thinks he's Teddy Roosevelt, and another brother using plastic surgery to hide from the police—not to mention Mortimer's own hesitancy about marriage—it'll be a miracle if Mortimer makes it to his wedding. Arsenic and Old Lace is a classic black comedy about the only thing more deadly than poison: family.
Purchase Tickets
We've added a livestream option for our Saturday night production of Arsenic and old Lace. You can purchase tickets for the livestream on StellarTickets.
Saturday Night Livestream Tickets
Theatre Celebration!
Monday, May 22 at 7:00-8:00 pm
Holland Christian High School (Door F)
956 Ottawa Ave, Holland, MI, 49423

Theatre Celebration!
Celebrate with us as we wrap up the Theatre season by celebrating with our students and their families. We'll also be presenting our annual theatre awards as well as celebrating our seniors as they take their final bow. This night is open to anyone, but we ask that you please RSVP for the Theatre Celebration so we know you're coming.
Photos
We keep an archive of photos from our previous productions and publish them for anyone to access. If you happen to have photos from a production that we don't have, get in touch with Justin at jdreyer@hollandchristian.org! We'd love to add your photos to our archive.
Theatre Photo Archive
"I love that my school is a Christian school. I love that we share in worship each week and learn about the world through a Christian perspective; I love my teachers, how they show their faith in their teaching, and are always willing to reach out to me outside of school if I need them.
"The teachers are outstanding and go above and beyond the call to impact my kids.
"The teachers care about their students: they want to help students develop their strengths and understand that they are made in god's image with specific talents and gifts.
"I think holland Christian's teaching staff is a huge strength. The level of care, concern, and character that most of the teachers possess is what makes the HC experience so impactful for our kids.
"No child is just a number. Teachers really know them, understand their strengths and weaknesses, lift them up in prayer, challenge classmates to care about them and for them.
Want to support the HCHS theatre program?
If you are interested in coming alongside HC Theatre and supporting the efforts of those involved in theatre and encouraging its students by joining TAP, please our TAP board at tap@hollandchristian.org or 616.820.2905, or contact one of the currant TAP Board members.
If you are interested in helping to support the theatre program financially, please do so through the donate button below!
Donate to HCHS theatre