Whether you consider it providence, foreknowledge, or simply an accidental good idea ahead of its time, back in the 2016-17 school year, Dan Vos, HC's Registrar, had this seemingly crazy idea that he and a few students could live stream HC athletic events. Not only that it might be possible, but also that it might be a good idea for students to learn, and could maybe even be good for the whole community. Dan knew of some old HC iPads mostly collecting dust in storage, and when tinkering around in his off-time, found software to connect them to each other.
And it worked—not too badly for a few old iPads pulled out of dusty closeted retirement. And despite some initial limitations: they couldn't zoom in to the action, they had to prop iPads on folding chairs, and the internet was often spotty. But some students noticed from the sidelines what Dan was doing, and their interest piqued. Plus a few grandparents noticed they could watch their grandkids' games while wintered elsewhere…
And then one wintry walk out of a Civic Center basketball game that Dan and his skeleton student crew were experimentally live streaming, back in the old Civic Center still, the parent of a player walked out with Dan and told him how much his parents loved watching their granddaughter's game streamed online. And then asked Dan what would it take, how much money would he need to do this at a higher level, to do it really well? Dan went home that night, researched, sent him a bare bones equipment list with prices, and the next week found a check arrived in the mail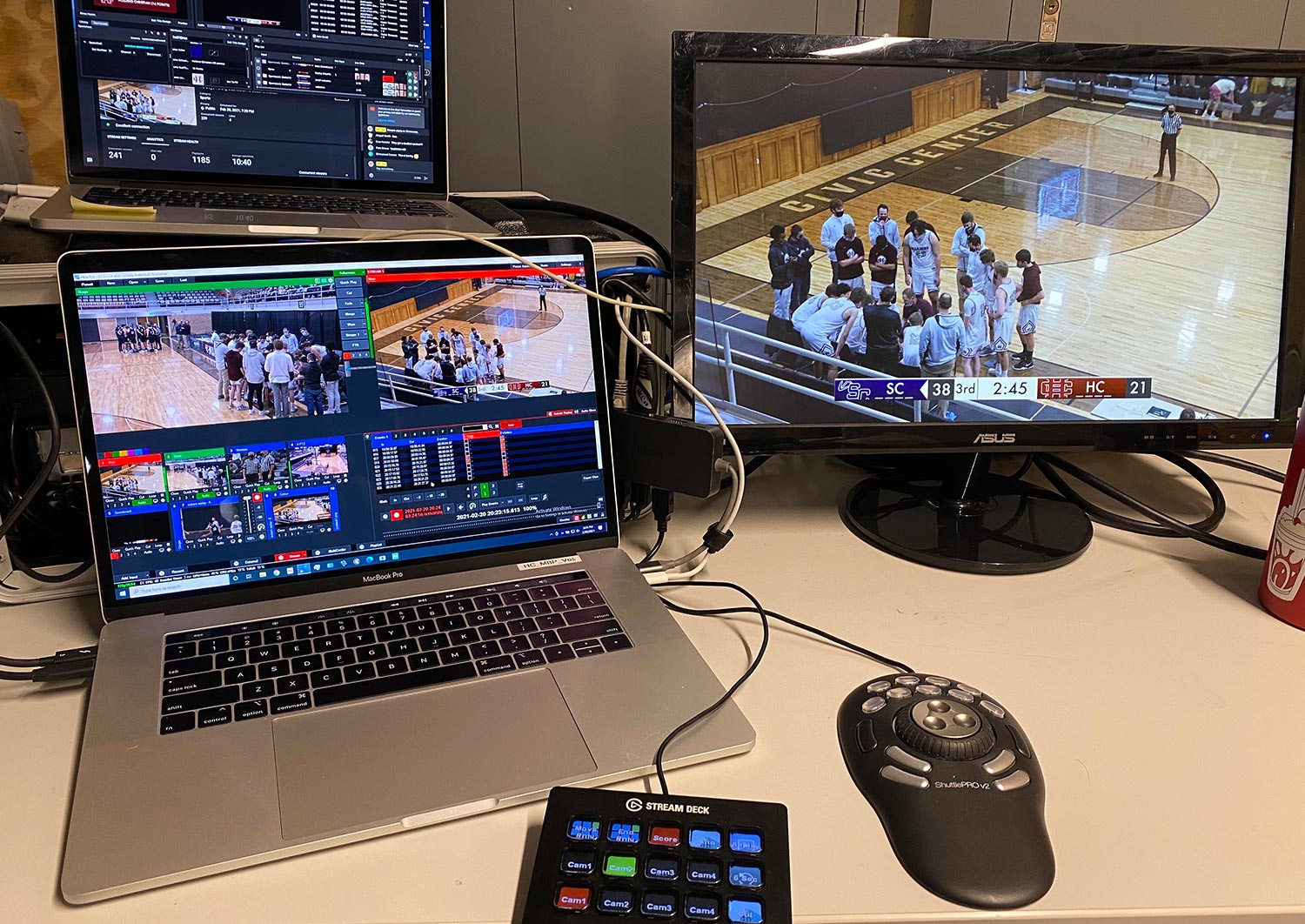 Five years and one COVID pandemic later, we're so grateful for that conversation that turned into HC Live! Because that's when things really got going, in the fall of 2017, after Dan purchased new equipment that enabled him to use four cameras borrowed from HCHS chapels in combo with new cables, monitors and a switch box with an intercom system, so the camera operators could be warned ahead of time their cameras were about to go live.
The very first 2018 Winterim class called "HC Live!" helped as well, and Dan learned along with his students from professionals in the field more than happy to share their expertise with a teenage crew. For that first school week each January, Dan and his HC Live! Winterim class visited Hope College, WOOD TV8, the VanAndel Arena, WGVU, and the City of Holland to learn from each of their professional camera crews. A huge highlight was visiting the "old warehouse in Grand Rapids," Dan said, that stores the equipment used by Matt Johnston—an expert videographer recognized by all the students for his motosport and tradesport Youtubes, especially for his Ken Block's Climbkhana: Pikes Peak Featuring the Hoonicorn V2, Ken Block's race up Pikes Peak.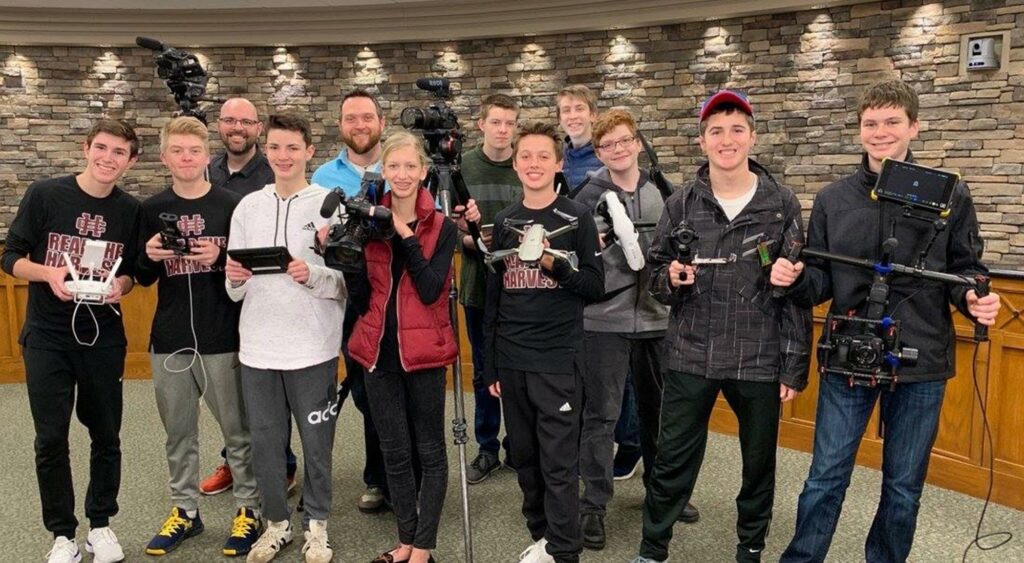 The Winterim classes not only educated a large group of kids on how to do the actual live streaming, but also gave Dan a significant crew of kids to draw from willing and able to do the volunteer work throughout the school year, since the culmination of the class was to live stream an HC basketball game together.
It also started a student community within our HC community, a draw for those students not necessarily interested in joining the mayhem on the sidelines of sporting events as much as running cameras behind the scene, kids who enjoy seeing a product that potentially blesses others.
"HC Live is a great thing to be a part of—especially this past year when it was more important than ever," Kyle Kossen '22 emailed. "I really felt like I was doing something that helped a lot of people this year, which is a great feeling to have. For me personally HC Live was important because it's made me more interested in studying film and broadcasting, which I hope to study in college."
Lauren Hemmeke '23 enjoyed working chapel cameras, so she decided to join the HC Live team "mostly because I liked running cameras," she commented. But then she found something else as well: "I enjoy the sense of community that I feel when we're making random jokes and comments through the headsets, or going out for ice cream after a game or event, and just getting to know the people who do this with me," she continued. "It's a really fun experience, and it's great to be able to get a nice looking livestream out so other people can see it, even if they can't be there in person."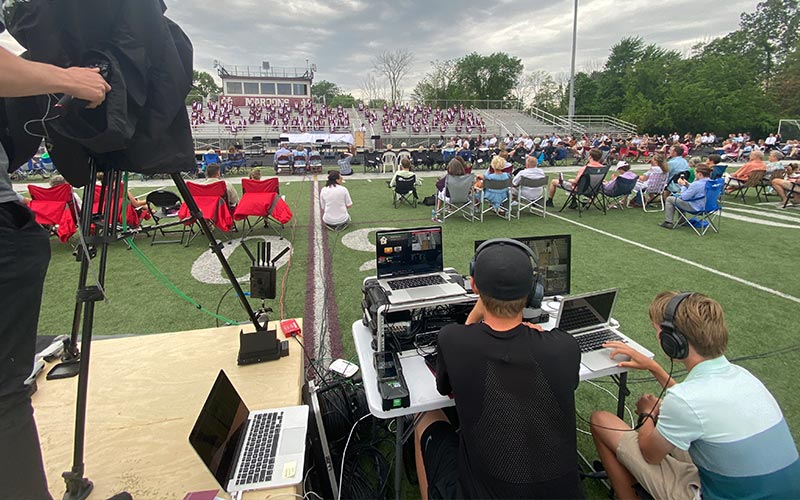 Each HC Live streamed event takes a significant amount of time—figure an hour to set up, 30-45 minutes of take down afterwards, besides the 2+ hours of the actual event. And high school students can be difficult to nail down timewise, especially for a volunteer gig—you can't just send out a request at the beginning of the semester and expect them to A. sign up for it that far in advance; or B. remember show up for something they signed up for that far ahead of time. So things are a little more influx, and with a big enough team, like the 32 he had this year, he can usually pull together 2-4 students the day before the event. A little nerve wracking, perhaps, but it generally pans out.
"I like to have students run everything," Dan said. "Graduation [livestream] was all run by students—cameras directing, drone flying, everything! I'm there to oversee, step in if needed, but I prefer students do it all. And it can be quite a commitment," he agreed. Dan generally starts by showing students how to set up and work a camera, then have them watch directing a few times, and maybe eventually do some crew directing, though not all students choose to direct.
One rare student has "taken the time to learn how everything works, how to put all the pieces together," Dan said. "To be honest, he's the linchpin of the whole thing. When he came on the scene, he made everything just work." That linchpin is Adam Wassink '22, the curly red haired kid you may have seen behind the cameras at the recent graduation or live streamed sporting events. "Adam is very good at it—he anticipates what's coming, is very encouraging. One time on the fly he says, 'Let's do a coach in a box!' and he whipped it together in the midst of game directing so you see the action, and [HCHS boys basketball coach] Brad's reaction to the action—that's the kind of stuff Adam can pull off."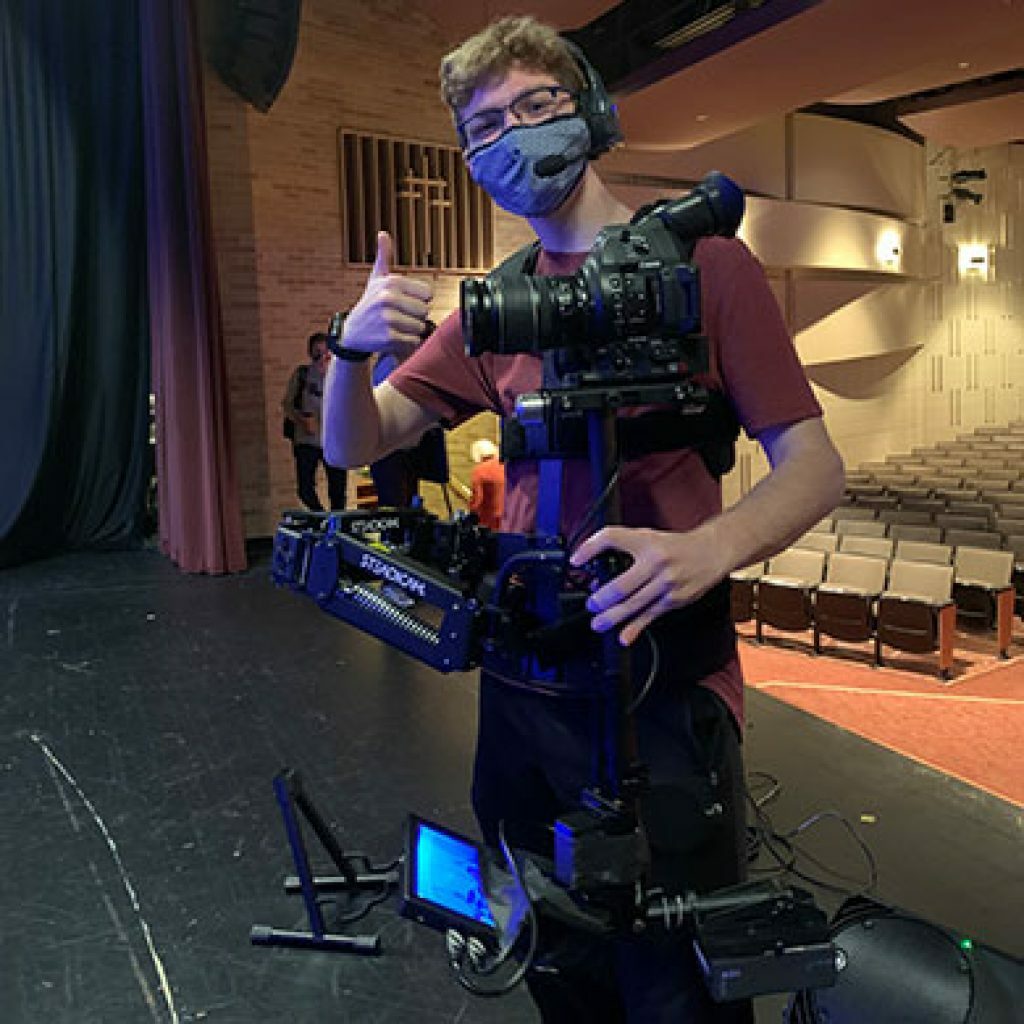 "I love doing HC Live!" Adam added. "I love that I get to sit behind what feels like an airplane seat and turn what could be a very boring one camera live stream into a multi-camera stream full of graphics, audio mixing, and replay which really pulls the viewer in." Plus "I get real life practice video producing and directing which is not easy!" he said.
As you might imagine, HC Live viewership increased hugely this past school year during COVID—boys basketball views went from 500-800 views preCOVID to closer to 2000 views for varsity games, and over 700 for JV. A girls JV basketball game that previously might get 200 views tops was getting almost 700. Varsity girls swimming even got 1200 views last fall for a swim meet narrated by two mothers—mainly so they could get into the swim meet to watch their daughters swim in person!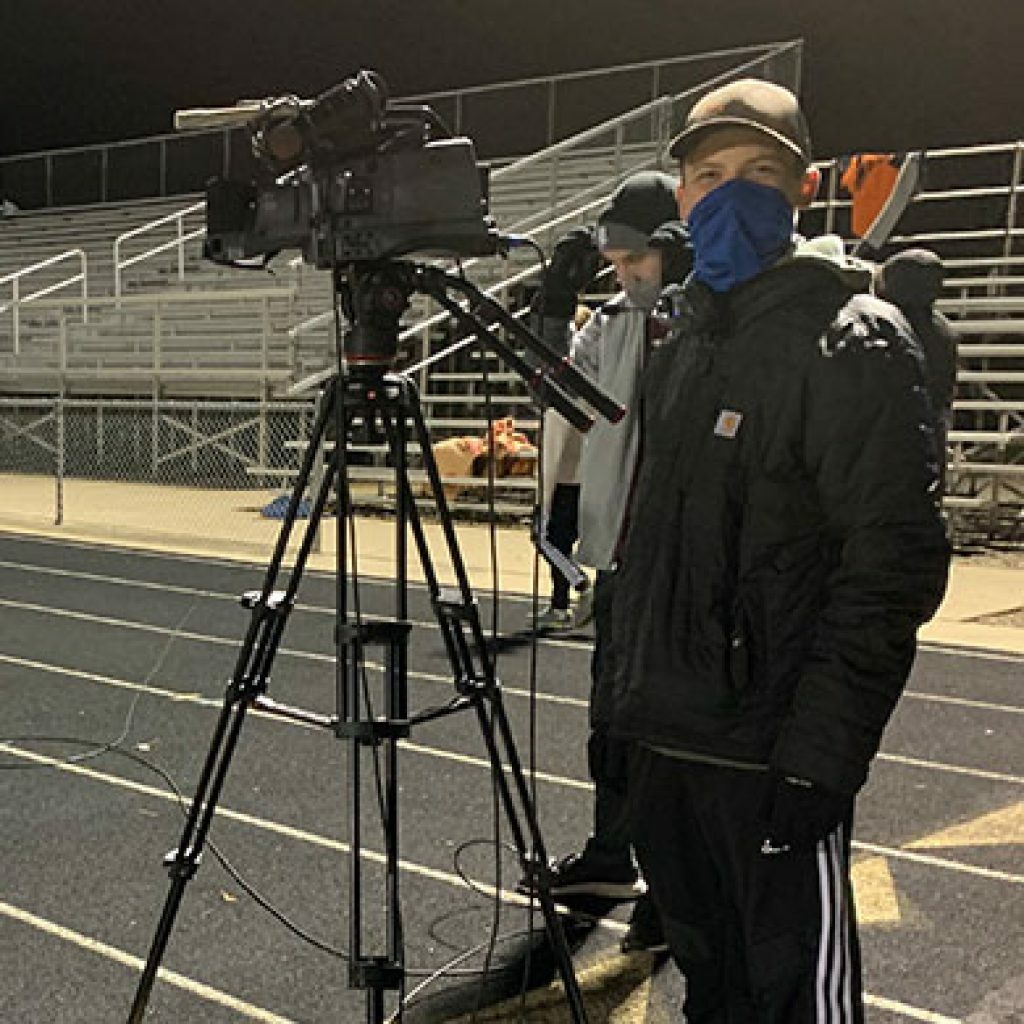 Now that we're hopefully shifting back to more in-person indoor event attendance this fall, Dan has ideas for where he'd like to see HC Live grow: He'd like to add in more play-by-play narration on a regular basis, and hopefully with more students interested in doing it if possible. He'd also like to figure out a way to entice more students to do HC Live. He's tossed around the idea of getting sponsors so he can maybe pay kids for their time. Or at least provide them with food? Or he wonders if he should make it a semester-long class, to train students not only how to work the cameras and direct the show, but also how to set it up and promo it on YouTube, do more with graphics. Maybe students could learn to create a 30 second highlight video for posting on social media the next day. Or create fillers before the event—interview coaches and players ahead of time. He'd also like to figure out how to get cross country, golf, and tennis matches live streamed, since they're currently limited by technology and lack of wireless internet in those situations.
But for now, it's been a great way for so many of us parents and grandparents kept out of the gym or field or swim meets by COVID or proximity to still cheer our kids on, to know what happened enough to rehash and relive good times with each other, and to remain part of each others' lives.
And for the kids behind the cameras?
"I have a perspective of what it actually takes to get an event on the big screen," Adam said. "I now watch football, baseball, etc. in a completely different way."