Fall '22 Connections Alumni Profile
Viking images courtesy of the MN Vikings
It was 21 years ago, back in September of 2001, that a 13-year-old Kirk Cousins '07 walked through Holland Christian School's doors for the first time, little knowing how much his life would change.
But then ours did too.
"I had no idea just how much this school would mean to me," he said this summer to a handful of HC students while visiting the HCMS renovation. "It was such an impactful part of my life, some of the best years of my life."
Kirk's very first middle school class was in what is now Mr. Sterenberg's room, and the first time he ever had an actual Bible class. He asked the principal then "Does that mean that you're giving me 45 minutes just to sit quietly and read my Bible to start my day?" Kirk remembered laughing. "And they said 'No, it's actually a class…you're going to study the Bible like you would study math or science.' That was a foreign concept to me!"
Kirk's first Bible class was with Mr. Jack Koeman, famous for the red pen stuck behind his ear, but who taught the kings of Israel and Judah, about how when they obeyed God, things would go well. But when they disobeyed God, things did not go well.
A very simple concept, Kirk pointed out, one reiterated in Galatians 6:7, that "'Whatever a man sows, this he will also reap,'" he readily quoted. "That truth of when you choose to walk with God, you can leave the consequences with Him. But above all else, honor Him and let Him handle the direction of your life," Kirk continued—ever the preacher's son. "That truth was abundantly clear to me as I took 7th grade Bible. It's really stuck with me and been a foundation for me ever since."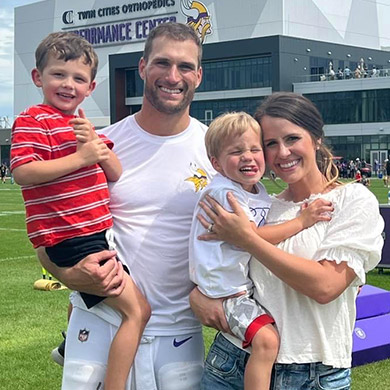 ""That truth was abundantly clear to me as I took 7th grade Bible. It's been a foundation ever since."
But his favorite Bible verse, his "life verse" from Proverbs 3:5-6, comes from his junior year, the time his ankle broke during the first quarter of his first Holland Christian varsity football game as the quarterback. Maybe you've heard the story already? But it's still a good one—how Kirk called his dad, realizing that his dream of playing Division I college football was no longer realistic if he'd be out most of his junior year with a broken ankle.
As Kirk retells the story, his dad reminded him of Proverbs 3:5-6, to "trust the Lord" with all his heart, to not lean on his own understanding. So he did, he trusted the Lord— while also working really hard on the field. And a short 18 months later he was signing his scholarship to play quarterback at MSU.
"The Lord was a lot bigger than a broken ankle, and He's a lot bigger than the challenges that we all face," Kirk said. "That journey was a beginning step for me to know what it meant to live out Proverbs 3:5 & 6—and really trust Him." If you haven't noticed it, Kirk quotes the Bible a lot. But it is really great to hear those familiar words pour so easily out of him, something maybe we all could do more often and so unconsciously? Kirk even fits the Bible into stories of his current life as quarterback for the Minnesota Vikings, how he ponders 1 Peter 5:7 right before his football games: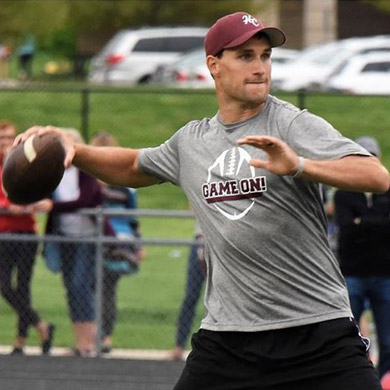 "The Lord was a lot bigger than a broken ankle, and He's a lot bigger than the challenges that we all face.
"We come back into the locker room and we have about 10 minutes just to kill time. It's quiet. You can hear the fans outside, you can hear the noise building. You can hear the smoke and the fire starting to go," he said. "I just go over to a corner of the locker room. I sit down on the floor, lean up against the wall, and I think about that verse. That I can cast all my cares on Him because He cares for me—it really helps me calm down in what is otherwise a really stressful moment."
Through Kirk's expressed wishes, Holland Christian Schools has been added to the Julie and Kirk Cousins Foundation as one of several local "generosity partners," which basically means some very helpful funding for a variety of HC programs.
But of all the needs in the world, why us? How did we at HC get so blessed?
Kirk already said what an impact his years at HC were on him, how they were not only some of the best years of his life, but laid a foundation for all that came later. "So I want the kids who come through here to have that same experience. I want the teachers who are here—who I believe to be the greatest strength of the school—I want those teachers to be blessed, to feel like they have all the resources they need to impact these kids," he said.
But there's more. "My wife and I want to get behind where God is moving, and where God is having an impact," Kirk added. "As we look around at different places, we don't see many better places than Holland Christian Schools."
The thing is, through his partnership with HC, Kirk has continued not only to remain relevant to us here in Holland, MI, but also remained in community with us, and in ways that are not always immediately obvious.
Leslie Feenstra '08 was one of Kirk's classmates from HCHS choir, and although she doesn't keep in contact with him, whenever he stops by Compassionate Heart Ministries (another of the Julie and Kirk Cousins Foundation's generosity partners) which she attends regularly as a woman with special needs, or when she sees Kirk at an HC event, Leslie is always thrilled to see an old dear friend. One who seems genuinely thrilled to see her too.
"When he sees Leslie, he still makes a big deal, and she is just connecting with a friend that cares about her," Deb Feenstra, Leslie's mom, said. "Not as Kirk Cousins, some big sports star, but as their buddy, because they know him as a friend, low key, never patronizing as if he's doing something for [them]. That's just the way he shared his life with them as a person—what he did and still does. He could be forgetting who he was and where he came from, but he doesn't."
Before every football game—just like he did back at MSU, while he was with the Redskins, and to this day with the Vikings—Kirk still texts with another buddy with special needs, Chris Doornbos '07. The two met in the tenor section of choir back in high school, and the two families actually became friends, so that Kirk's mom still will sit and watch Kirk's games with Chris when she's in town.
"Kirk was always gracious and kind and welcoming, and when Chris graduated, they just continued to stay in touch," Chris' dad, Larry Doornbos, said. "Chris would text Kirk before every game to say, 'I'm praying for you,' and he would text him afterwards to just encourage him whether he won or lost.
"They still text before and after every game. It's an ongoing tradition between the two of them," Larry said, and then added, "We're thrilled with it."
Six years ago when he was going into 7th grade, recent HCHS grad Austin Brinks '22 was totally into football as only 7th grade boys can be. But then broke his arm badly at the Kirk Cousins Football Camp at Hope College, and was taken out of football for the fall. A big deal for any middle schooler.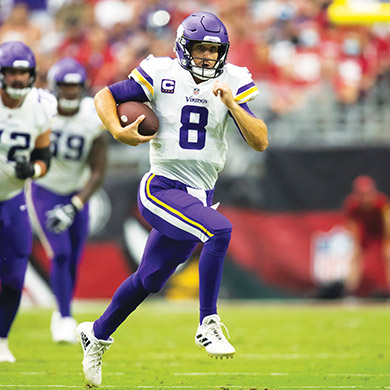 "My wife and I want to get behind where God is moving, and where God is having an impact.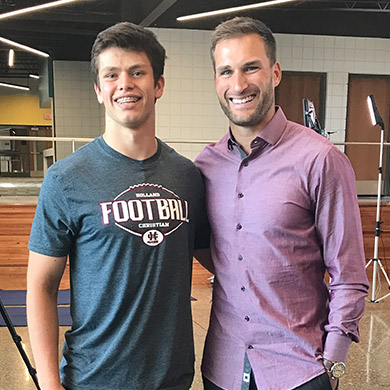 A few weeks later Austin received a card in the mail from Kirk: "You were really tough the day you got injured and you kept a great attitude! Hopefully you get back playing sports again soon…"
And from that phrase "playing sports" in Kirk's handwriting, Austin realized that he had more options than just football. Than just sitting benched the whole fall with a broken arm, and decided instead to go out for cross country, because you can run with a broken arm, right? And then found out he's really good at running. So good in fact, he made all-state the last couple of years in track, and won back-to-back first place in the 4×800 at the MHSAA Boys State Champions the last two years. Check it out for yourself on page 6 at the front of the Connections.
These are the kinds of things we get to be reminded of when in community with Kirk Cousins. That God is at work even in the details, that we can trust Him, and that it's actually a gift and a blessing to acknowledge Him in all our ways. And so, we're grateful to have Kirk around Holland Christian every now and then, still involved in our community in all manner of ways. Because he's genuinely nice to be around. And he makes us think bigger about God, and dream bigger dreams.