Fall 2022 Connections
 Top photo courtesy of Schippers Construction
All kinds of really cool things pour out of Mike Jacobs' classroom.
They line the HCHS southwestern halls at the end of each semester—stacks of wooden birdhouses and step stools, shiny galvanized tool boxes. Pinball machines, foosball tables, crazy lights, end tables, longboards, and bow tie racks. Adirondack chairs in every color, charcuterie boards, clocks.
Then there are the really cool kids who pour out of there, too. Girls who know how to use a table saw, boys who had never painted anything before, but now do. Teams of students who together built rocking horses for each HCS teacher who became a parent last year, or built Adirondack chairs for Resthaven, or welded go-karts to zip around the parking lot.
Students who learned how to plan, design, and engineer projects from start to finish, guided along the way by actual Gentex engineers willing to put their time and talents into our students.
And Mike Jacobs '96, HCHS's applied technology teacher is a huge part of that.
"I want kids to experience what their vocation looks like, I want them to find His will for their lives because I know He has a plan for their lives," he said. "God gave us talents—I want these kids to explore to figure out 'Is this what God wants me to do?'"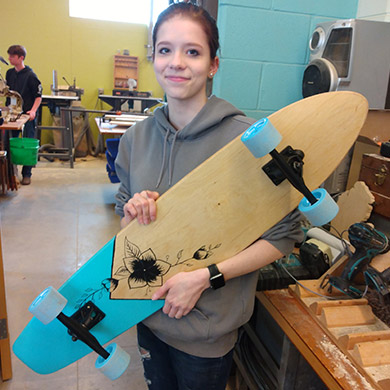 "God gave us talents—I want these kids to explore to figure out 'Is this what God wants me to do?
HC's Applied Tech classes are not just the stereotypical shop class anymore— mostly male classes learning how to use woodworking tools by making birdhouses—though that is a large part of Mike's job. More female students are taking Applied Tech, and taking them at all levels, from basic woodworking to the engineering classes as well. The projects are getting more creative, more highly engineered, more community-oriented, thanks in part to the donated 3-D printers and laser cutter. Plus Mike and his classes give away a lot of their finished projects to the larger community—something that really matters to Mike.
"A lot of the things we make go into the community as much as we can—the more we can make for the community, build for the community, the better—because that's just loving your neighbor," he said.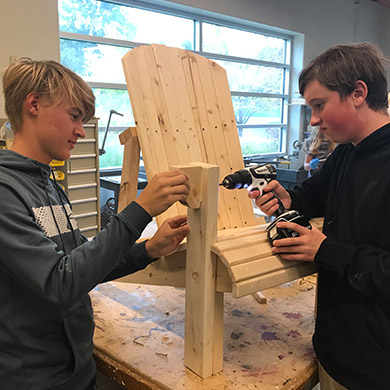 "The more we can build for the community, the better—because that's just loving your neighbor...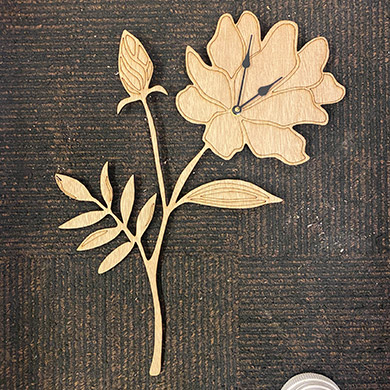 Mike sees his role at HC is to get students ready for a hands-on Christian life—whether they're planning for college or not, and whether they're learning skills to improve their own homes and communities, or learning skills they will use directly in a job or career.
This year Mike is expanding the Woods class into a second semester Woods 2 class that focuses on large scale building and construction framing—not just carpentry—and plans to build the announcers' booth for the new track behind the middle school based on a student design. "We'll do real stuff for the community we live in," he said. "If we're going to be making real things, we might as well bless others with them." If he gets his way and enough students sign up, he also hopes to add a second semester of Metals, so that students can try a wider variety of welding techniques, too.
"The further I can take them, they can be that much more prepared for the Tech Center," he said. "They can find out, is this a talent God gave them? And from there take it to the Tech Center, or sometimes not. Sometimes kids want the skills, but don't want the Tech Center."
And kids in Metals class are learning a whole lot more than "just" fabrication and welding, as they are split into groups to design and fabricate a go-kart. "What I like about that, it teaches collaboration," Jacobs said. "Whoever is building the rear end has to talk to the people building the front end. It's design thinking, collaboration, but also problem solving because nothing ever works the first time!"
There already is an Engineering Design class that's kinda like Snap Circuits on steroids. Students learn basic programming so they can run the 3-D printer, motors, lasers, and lights they want to add to their end-of-semester projects before presenting to a panel of local engineers. Last spring, students designed things like a Star Wars AT-AT walker, and a head to head pinball machine with lights and lasers. Interactive corn hole boards with lights and lasers so you can play in the dark and know when the bean bag dropped through the hole. Another student made a random cat exercise toy with lasers for the cat to chase.
"The idea is to give kids some of the tools that engineers use, and they have to come up with a project, and then use the engineering design process," Jacobs explained, "It's more about the design process—not super math focused. They have to be able to build stuff, but it's not like we're going to do all kinds of calculus problems."
Not only are HC's Applied Tech classes intentionally giving more stuff away to the community, they're also being invested into by our community, so students are making local connections too. Gentex engineers walk students through their semester projects the same way that Gentex engineers walk through their own projects, from presenting ideas to get professional feedback, brainstorming and evaluating together, then creating a prototype, testing and evaluating their functional design, and finally presenting it at the end of the semester to a team of Gentex engineers who give professional engineer feedback.
Forged by Design gives the HC wood shop their "scraps" to use, K-Line Industries donates steel, while Transmatic, Metal Flow, Gentex, Schippers Construction and Smart Vision Lights have all been hugely supportive with both donated supplies and time. And the classes have their own volunteer, Vern Prins, whose building company Mike worked for back in high school, remodeling houses. "He has more than 50 years of woodworking experience and he has been an amazing help to the class—just so much experience!" Mike said.
"I've had kids in that class who weren't thinking engineering, but loved it so much that they said "That's what I want to do! This class changed my life!" he said.
Anna Larsen '22 was one of those students: Anna combined her love of art and design from AP Art this year with the technology in the Technical Drawing class to create kinetic art—the kinds of things you'd see on a bigger scale at Art Prize.
"It's really cool to be able to use the laser cutter, and not many schools have one especially that big," Anna said, before leaving for University of Michigan this fall to study engineering. "I thought that I knew how to do certain things, but I didn't know I can do them together," she said, adding that "Mr. Jacobs gives us real life experiences, how it would be in a real engineering job."
Brody Nelson '23 is another of those students. He took Metals class because it sounded interesting, but then learned that he really enjoyed electrical work. So he signed up for the electrician's program at the OAISD Tech Center this school year, got a summer job at Hoekstra Electric, and is loving it.
Sam Perton '22 is another. After making a robotic AT-AT walker this past spring in the Engineering Design class, he's off at GVSU this year for mechanical engineering, thanks in part to Jacobs' classes and his teaching style.
"He's really good at providing you with what you need, and really helpful as well—he'll know the answers to your questions, and give you more knowledge as well," Sam said. "He's very dedicated to students, even outside of class. He even brings in his own stuff."
"It's design thinking, collaboration, but also problem solving because nothing ever works the first time!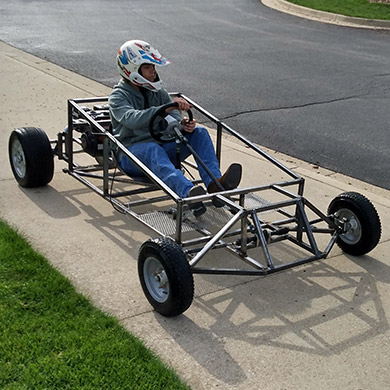 "Mr. Jacobs gives us real life experiences, how it would be in a real engineering job...
Joseph Stielstra '24 took Metals as a freshman because he had heard rumors about building a go kart and wanted to learn how to weld. "It's handy for around the house—a good life skill to have," he said, adding that at this point he really has no idea what he'd like to pursue as a career.
"It's easy to do stuff on paper, but hard to do it in real life—kids are learning that all the time," Jacobs said, adding that he's just helping all his students become prepared for whatever their choices are. For wherever God takes them—college, a trade, or just capable home-owning adults. "I want these kids to be able to find God's will for their lives, to expose them so they can figure out is this what God wants them to do? God gives us talents, and God has a plan."