…from some really great HC kindergarten teachers
Winter 2022 Connections
When we pause to take stock of our blessings here at Holland Christian Schools, or when we survey our parents about what they appreciate at Holland Christian, we are always brought back to our teachers. They are amazing and talented people who also love the Lord with all their hearts. And our kindergarten teachers set the standard from the very beginning—these seven teachers on three different HC campuses are a dedicated bunch who throw themselves wholeheartedly into teaching some of our youngest learners, introducing them to the delights of school and learning. We thought you might like to get to know them just a bit!
Karen Strikwerda @ South Side
When kindergartners first meet Karen Strikwerda '83, they never guess that her favorite pet is her ball python named Freddy. And when her South Side kindergarteners ask what her favorite animal is—a very important question in kindergarten, of course—they're excited to discover she loves reptiles instead of cats or dogs.
Karen has been teaching kindergarten at Holland Christian for 15 years, and remains current, curious and creative, happily trying new teaching techniques. "Kindergartners have a curiosity and a love of learning and that gets me excited each day," Karen says. "It brings me joy to teach them how to do school and how to continue this love of learning."
But she also has an incredible heart for the Lord, and is passionate about showing kindergarteners their God. "In kindergarten, we often reflect on how great and strong and mighty is our God," Karen said, "Yet there is also the lesson that this BIG God loves each of us so deeply. Teaching kindergartners that God loves them and is always with them gives them such comfort."
This love for God not only directs academics in Karen's kindergarten classes, but also a growing ability to know themselves and their friends: "As kindergartners are learning more about themselves and their friends, I strive to let them know that they are each a unique creation with gifts and talents that God has given to them specifically."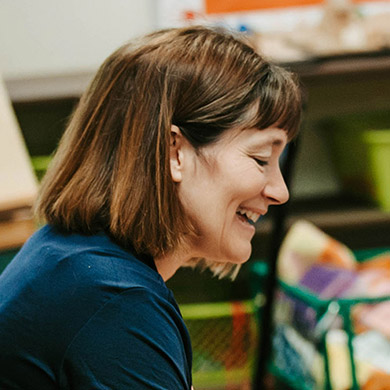 "I love that she gives me hugs and she makes it so I don't cry during school.
Lydia Kruithof '34
"I like that Mrs. Timmer teaches us a lot of things about reading.
Nora Timmerman '34
Stephanie Timmer @ South Side
This is Stephanie Timmer's fourth year teaching kindergarten, her first at South Side. But a quick peek into her classroom shows she definitely "gets" kindergarteners, and it's a joy to watch her students help each other out in the hallways, stuffing and zipping each others' backpacks on the way to the bus, or making their own word problems in math class.
"Stephanie comes to Holland Christian this year as an experienced kindergarten teacher with new ideas and ways for us to continue to explore differentiated learning opportunities to meet the learning and behavioral needs of our students," said South Side principal Erin Wyma. "She has an extensive background in creating and implementing student-centered reading interventions."
Stephanie is grateful to be teaching at South Side: "I love that I get to read the Bible, pray, praise and worship with these students everyday!" she said. "I get to live into the fullness of who God created me to be here at Holland Christian. I love watching and supporting students in their spiritual journey."
One of her favorite subjects to teach is creation because "It is so exciting to see how impressed [students] are [with] all that God has created," she said. "They are thrilled to share their favorite parts of God's creation—whether that is animals in the sky, on land, in the waters, the stars, the people, or their favorite foods."
"Kindergartners love school and bring such a special joy with them each day!" Stephanie added.
Rita Bos @ Rose Park
Every July Rita Bos '92 holds a huge pool party in her backyard for all her Rose Park "gems"—the kindergarteners she will be teaching in the fall, along with their families.
"These little blessings are an extension of my family, and I work super hard for them to know and feel that they are loved by God FIRST—and also Mrs. Bos!" she said. Plus, with all her years of experience teaching kindergarten, she knows that the relationships built in kindergarten among classmates, and even between families from the classroom, can last a lifetime.
So she takes the time to get to know her little "gems" purposefully creating family gatherings like field trips to Crane's Orchard to create a classroom community.
"Each day the little ones are SO excited about EVERY learning opportunity!" she said. "The 'aha' moments that I get to constantly witness are simply beautiful!" And she's grateful to be teaching at a Christian school—"To be able to teach all subjects through the Biblical lens is a gift!"
One of her favorite topics to teach is science, lessons that Rita carefully creates to integrate faith. But the main thing that she works to send her kindergarteners away with is "That God loves them fiercely! I know that these treasures won't care to learn until they know I care [about them]," she said.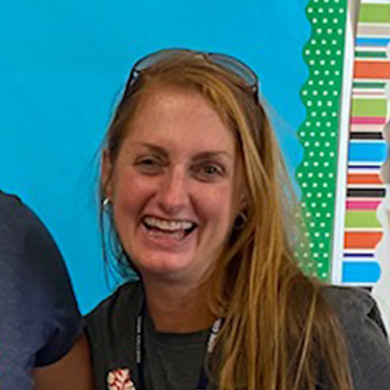 "She teaches us math and how to be kind and friendly to other people. She's sweet—when we
need a bandaid she gives us one outside.
Abigail Disselkoen '34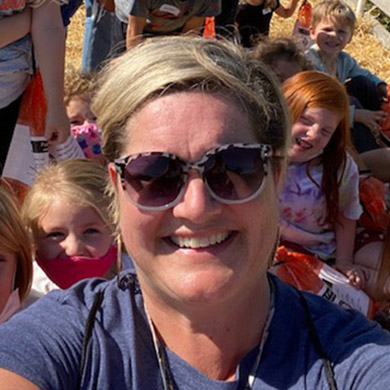 "When we mess up she says, "Try again!"
Sophia VanDorp '34
Amanda Brouwer @ Rose Park
Two things that are important to understanding Rose Park kindergarten teacher Amanda Brouwer: She is really really good at wacky hair day hairdos. And second, it is a total blessing to watch her lead young students in worshiping God together.
After 18 years of teaching preschool, this is Amanda's second year teaching kindergarten. And she is a rock star at it. "I love watching our littlest learners get excited about discovering the world around them and I get to be a part of that— amazing!" Amanda said. "I get to sing, dance, move, explore, and get messy with our learning!"
"Amanda shines with creativity, music, and joy," Rose Park principal Miska Rynsburger said. "She is masterful at creating a family in her kindergarten space where every child is known, loved, and well cared for in every aspect of development: academic, social, emotional, and spiritual."
She has an academic understanding of the skills that are so important in kindergarten— including play. "Play allows kindergartners to take 'risks' and teaches them so many social emotional development skills that carry into academic skills," she explained.
But the most important thing she teaches, alongside reading and writing? "I want my students to walk away from my class knowing that God loves them very much and created them each with gifts and talents that they can use to build His kingdom," she said.
Hillary Klipp Lopez, Spanish Immersion @ Rose Park
It's a rare person who can take a full classroom of 20+ rambunctious English-speaking 5-year-olds and have them speaking Spanish in a few quick months. But Hillary Klipp Lopez has done that for the past four years as Rose Park's Spanish Immersion kindergarten teacher.
Rose Park principal Miska Rynsburger appreciates Hillary's energy, and how she is "an excellent communicator with her children, her families, and her colleagues," Miska said. "She advocates graciously and truthfully for the needs of her developing students, our growing program, and for Holland Christian's impact on our greater community."
Hillary likes that Holland Christian is "a place where students are loved and are taught how much they are loved by God," she said. "I love how we focus on the whole child, fostering spiritual, academic, social, and emotional growth. It is great to be surrounded by colleagues and families who love Jesus and want to serve Him with a whole heart."
Hillary sets high standards for herself and subsequent grade levels, besides introducing us to the beauty of language immersion, of Hispanic culture, and the idea that we all "form part of God's big world, which spans across ALL countries, languages, and cultures."
One of her favorite times of the year is around November when kindergartners "realize that they can speak ALL in Spanish," she said. "They are incredibly proud of themselves, and I love celebrating their growth with them."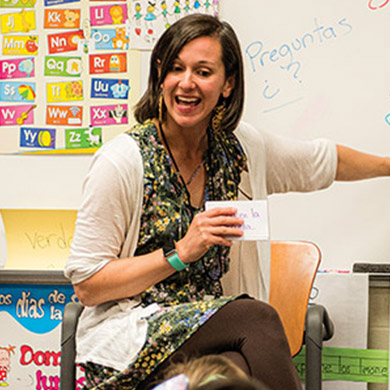 "My favorite part is that we speak Spanish and we play and it's very fun. We got to watch
a show.
Cecily Mortensen '34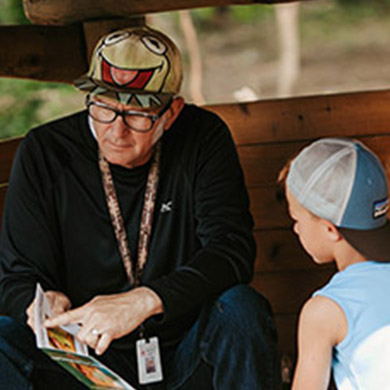 "God created Ron to love and grow young children...he has married that skill with his passion for creation.
Miska Rynsburger '92
Ron Harig @ Forest School
Statistically speaking, there can't be that many former Marines who have found their second career in teaching kindergarten, right? But you also don't find many kindergarten teachers happily teaching 25 5-year-olds outside 6-7 hours a day, snow or shine, either, like Ron Harig does in HC Forest School.
Which is maybe why he still finds teaching kindergarten fulfilling, even after 15 years: "I love hearing the kindergarteners' laughter and joy as they play. Their forgiveness and energy is just unique," he said. Plus, "I want to be a foundation builder. To be in a place where all kids could all leave my classroom knowing what they should know before entering 1st grade—and play for hours and hours."
Ron taught 27 years at Jenison Public Schools, but left to teach HC Forest School when it started four years ago, and has been hugely instrumental in its success.
"I am surrounded by individuals who love Jesus and work crazy hard," he said. "The support and encouragement from parents is amazing. We also have some one-of-a-kind, crazy talented administrators."
Besides watching kids explore outside, Ron delights in teaching them to read: "We are learning how to read so that we can read the Bible. If we want to spend time with Jesus, we can open our Bibles and read. He will guide and comfort us throughout this life as we spend time with Him."
Mackenzie Wierenga @ Forest School
Last January, Mackenzie Wierenga was dipping her toes into all things Holland Christian and Forest School, basically dropping her previous life as a Hope College student to take up student teaching kindergarten Forest School with Ron Harig.
And her life changed. She realized not only how much she enjoyed teaching, but also being in a Christian school and in an all-day outdoor program.
"I love how unique the program is," Mackenzie said. "There is nothing quite like it. We get to learn about our Lord every day out in nature. The program is very hands-on and I love how the kids can see Jesus all day long."
"Mackenzie's compassion for children makes her unique," Forest School principal Miska Rynsburger said. "She adapts to the needs of her learners and meets them where they are.
Besides enjoying the daily laughter and joy of energetic 5-year-olds, and rejoicing in their huge academic growth in a year, Mackenzie appreciates the all-inclusive, comprehensive nature of Forest School kindergarten. One of her favorite units is all about rocks: "We learn about different kinds of rocks, go to the beach and take home rocks to use for art, learn how the Lord is our Rock, learn about the bucket filling approach, etc.," she said. "I love when you can tie lots of subjects all in the same unit!"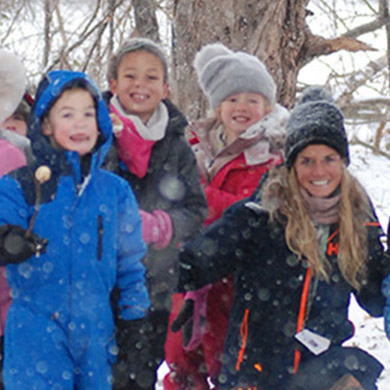 "Mackenzie's children trust her and love her because they know they are respected and loved
with authenticity and joy.
Miska Rynsburger '92