Winter 2019 Connections Alumni Profile
It was hot. Like crazy second story Africa hot, and with no air conditioning of course. Julie (Timmerman) Meyaard '89 had never been gone from her six children at home in Zeeland this long, had never been overseas, much less to Africa, had never adopted anybody before.
And it was not going well.
Julie and her husband Steve Meyaard '89 were supposed to fly back home today, but the American Embassy was missing the second page of a two-page document and would not allow their freshly adopted four-year-old daughter Myla into America, so it made no sense to put her on a plane out of Ethiopia. While everyone else in their group loaded up and headed to the airport, the Meyaards' adoption coordinator thought they should try one last-ditch effort to get the embassy to release Myla. So they literally ran over to the office, up the stairs.
And the woman behind the counter was not cooperating. At. All. She was refusing to hand over the paperwork, while Julie stood there, tears streaming down her face, swearing she was never coming back to Ethiopia, was never going to leave her home town again, argued with God why was this so difficult, when it seemed like they were faithfully following His plan? His opened doors? To adopt this girl brought to them unexpectedly from Ethiopia, to add to their six children already back home?
Unaware of the drama at the counter, Myla stood in the waiting area bouncing a superball someone had given her, singing some of the only words she knew in English: "Our God is so great, so strong and so mighty, there's nothing our God cannot do. Our God is so great…"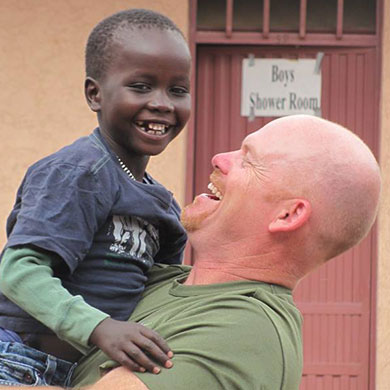 "Our God is so great, so strong and so mighty, there's nothing our God cannot do. Our God is so great…
Suddenly a man walked in from a door behind the counter, saw Julie crying, asked the woman in charge what was going on. She explained the missing paper, and he asked her, "Well, why can't you do it?" "Because I am not losing my job over these people," she answered. He looked at Julie, at Steve, at Myla happily bouncing her ball and singing, and said, "I will," stamped "Approved" and sent the Meyaards off to catch their plane. Calling back over their shoulders while they ran, "What was your name again? Thank you! God bless you!"
Back in their old HCHS days, there's no way Steve '89 and Julie (Timmerman) Meyaard '89 ever planned in the study hall that they met in, to have the 11 children they currently joyfully claim, age 24 down to 3 ½ . Once they actually thought about kids, they fully intended—like so many of the rest of us—to enjoy their 3-4 oldest biological children, live happily ever after in their 4 bedroom 1 ½-bath-house, and be finished.
"But looking back, we can see how much bigger and better His dreams for us were," Julie says earnestly, before relating one amazing story after another how they unexpectedly added not just Myla, but four more adopted kids to their six biological kids, following God's surprising lead every step of the way.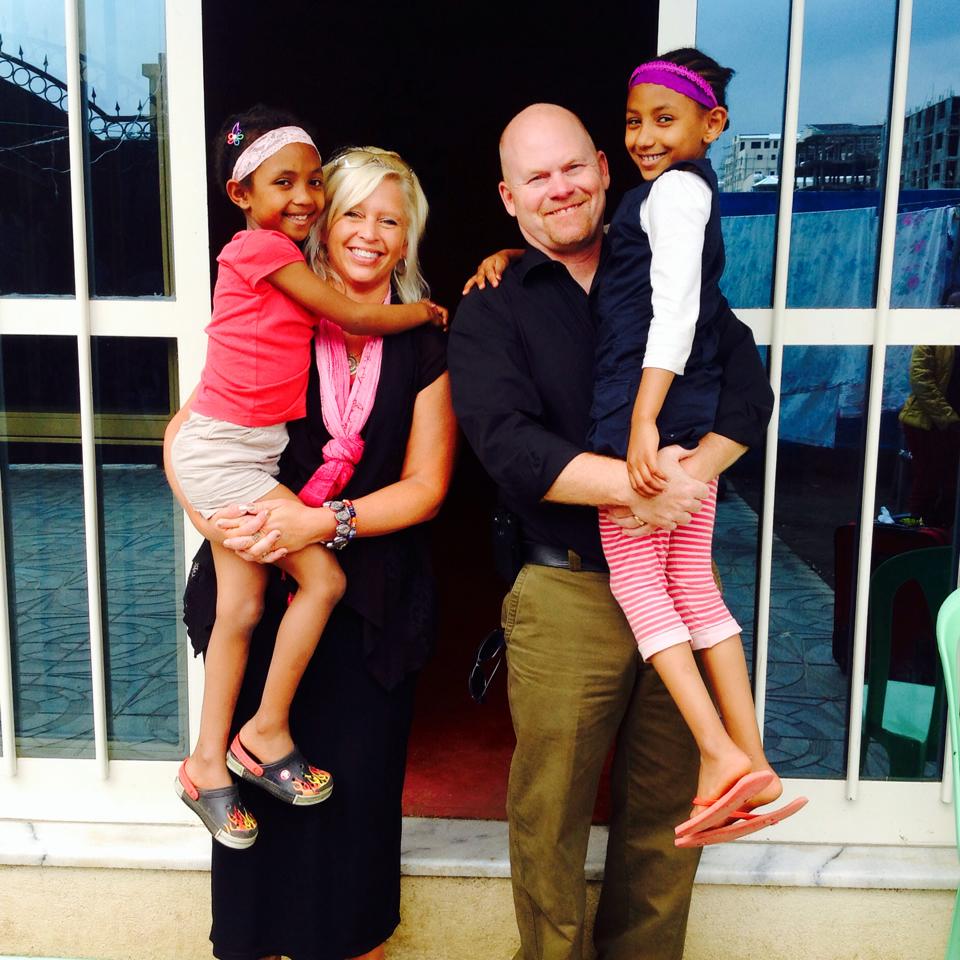 "Desmond taught us that joy. With Desmond, we realized that we almost missed this opportunity to have this ray of sunshine, this love for people that he has!
"And I don't think I said yes to any of them, I never actually ever said yes," added Steve. "I was always just like, well, why not? Why shouldn't we?"
First came their four oldest biological children, twins Dalton '13 and Jaden '13, Casey '14, and Charles '16, and then came along the pleasant surprise of Court '22, now a freshman at HC. At that point, being adopted herself, Julie thought that she would really like to adopt a girl, wanting a sister for their only daughter, Jaden, and another daughter for herself. So before Court was even born, they started the adoption process, hoping to bring a daughter from Guatemala, which made sense living in Zeeland with its new Spanish immersion programs, and round their family out to six kids, "and we would be complete" she said.
While waiting through the super slow Guatemalan adoption process, Julie gave birth to their son Caleb, now a sixth grader at ZCS. And then they all watched the Guatemalan government close the door to international adoption.
"We had already invested all this money, but thought maybe God was trying to tell us 'You're good, enjoy your six kids, take care of them, you don't need two girls,'" Julie said.
But a couple of years later, when Caleb was two, the adoption agency called out of the blue, just when the Meyaards had learned to be content knowing that their money invested into the potential Guatemalan adoption was being used to house and feed other needy Guatemalan mothers and children. Suddenly the adoption agency was offering to transfer a portion of their adoption investment toward adoption from another country—either Vietnam or Ethiopia.
Meanwhile, VP of Operations for Quality Machine and Automation by day, Steve had traveled to Beautiful Gate in Lesotho on a mission trip with a buddy of his, Mike Verkaik, and their Pastor Tim at Haven CRC in Zeeland, and fell in love with all that is Africa.
"I would say that was when my husband became a true Christ-follower," Julie said. Sure, he was raised a Christian, went to church, believed in Christ, "and yet are you living it out, and letting go? But after that trip, his heart was exploding (while I wasn't there!) and he was right away on board; 'Let's switch!' he said to me."
But Julie wasn't there yet, wasn't ready to bring an African girl to Zeeland, telling God, "I can do Guatemala, but God, I don't know about Africa. A black child in Zeeland?"
So they prayed.
And then this seemingly random article comes out from Holland Christian in the Holland Sentinel, declaring something along the lines that "God's fabric is more colorful," describing HC's efforts already back then to diversify its student population.
"The timing was incredible!" Julie says, adding that is how they decided to send their oldest children, then just ready for high school, to Holland Christian. But it's also how they agreed to switch to an Ethiopian adoption, and two weeks later received a picture of a darling four-year-old girl, dressed in a purple sweatshirt, with an "absolute sparkle in her eye" and "there wasn't a question, never really even a discussion—and all the kids were absolutely on board."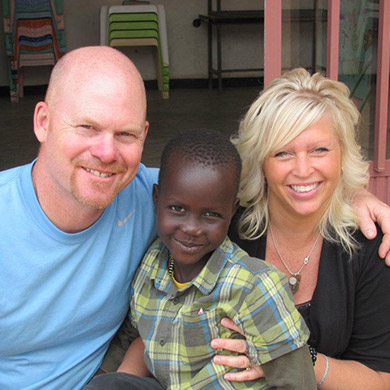 "We could not have asked for something more perfect! God knew when this all started, I will have a place for your kids. That house is such a gift!
But after returning triumphantly from Ethiopia with Myla, things still weren't exactly easy.  "Everything was different than we had signed up for," said Julie. "I thought if this was God's plan, why was it so hard?"
Myla's transition was difficult, the most difficult of their five adopted children, Julie said, though Myla was really excited to have a dad. She had been used to being an only child, to getting her way, was strong-willed, and now she was suddenly the youngest child of seven.
But now, 10 years later? "She's one of the first ones I call for help," Julie said. "She's one of the most capable." Eventually life began to feel complete, almost normal with seven children, and with absolutely zero thoughts of adopting more.
But then, to make another miraculous, God-interceding story short, along came Desmond, an unexpected gift from northern rural Ethiopia, more Sudanese than Ethiopian. But also pure joy, sheer noise and energy, and so worth the boat Steve sold to pay for his adoption. "Desmond taught us that joy," Julie said. "With Desmond, we realized that we almost missed this opportunity to have this ray of sunshine, this love for people that he has!"
And so there were eight. "We thought we were done—but we had let so much go by at that point, that we knew but if something is asked of us, we will keep our eyes open!" Julie said. So along came the offer of two sisters to adopt, again from Ethiopia.
"This was where I had more reservations," said Steve. "We had emptied out our 401K at this point, we were still in our old house with 1 ½ bathrooms. We had sold a car, a boat, applied for grants and previously got nothing. We would have to fundraise every dime of this one, about $38,000. We were financially responsible for two 18, 19 year olds starting college…"
But Julie was already on board for this one: "We're not going to make them wait, just because we aren't financially ready for them," she insisted.
So they were in the process of planning a dessert fundraiser, and on a random suggestion, contacted Joseph's DreamCoat, a Texas family organization that funds adoptions, and hoped for maybe $3-4K from them. Maybe enough to make the first payment?
Instead they were told by the head of the organization that they were going to completely fund both adoptions, after they had checked with the Meyaards' pastor, "Are these guys for real?!" So now they just had to figure out where they would put all those kids—how do you do 12 morning routines with only a bathroom and a half?
"Can I just tell you that bathrooms are life changing?! At our old house, we had lines for the bathroom, kids just peeing off the deck," Julie laughed.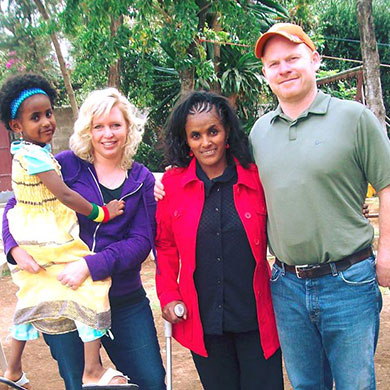 "I told Steve, I'm not taking a baby! We've got chickens and kids and chaos–this is no home for a baby. I'm so done, so over the baby stage!
They had been holding on to a chunk of land for several years, planning to build their dream house on it someday, but now sold their house, and moved all 12 of them into Steve's parents' house in anticipation of building.
But then decided they just couldn't do it. "I decided I don't care what my countertops looked like, when two years earlier that had been my dream! The thought of going through the building process, and the financial burden of it all" was just too much, Julie said.
So they looked at houses one last time, exhausted even more possibilities than they already had, fully knowing that finding an affordable house in the Zeeland area to fit 13 people was no small task.
But miraculously (in the truest sense of the word!) they found one: "A house is just a house, but it was so handpicked for our family—huge kitchen, big bedrooms, five bathrooms, a laundry room that was huge—more than we could ever have imagined, 10 acres with a pool. We could not have asked for something more perfect! God knew when this all started, I will have a place for your kids. That house is such a gift!"
And their two new daughters? Both girls were very malnourished, thin and extremely small for their registered, but unlikely, ages of 7 and 9. And, again, did not have an easy start in their new home:
"It was rough. Rosina was madder than a hornet! She has a big personality, had been through a lot, and did not want to be loved. We wondered did we finally push it too far? Did we take on too much? But she has come so far! She is such a sweet, fun, sarcastic kid!" Julie said.
At ten kids, an even dozen for their family, the Meyaards felt complete. For real this time. But they wanted to help promote the "Safe Family" ministry of Bethany Christian Services, a passion of Julie's through their church, Haven CRC in Zeeland. Since they wanted to be able to help others become safe families—families who could do short term child care for under-resourced families in crisis, hopefully preventing Child Protective Services from entering the picture—the Meyaards decided to walk through the certification process themselves, only so that they could better help other families walk through the process.
And you can guess the drill by now. Yup. Another kid showed up.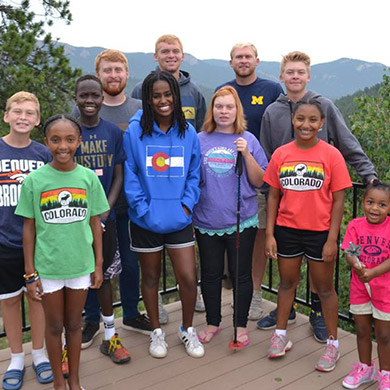 "A good Christian education gives you a worldview that looks at family differently than the typical American nuclear family. We were blessed to have been taught that Jesus calls us to live a life that matters, and doesn't always make sense to the rest of the world.
They were in the middle of Court's birthday party, when they received a call from Bethany, saying they had a little baby, and were wondering if the Meyaards could take the baby for just a couple of weeks.
"I told Steve, 'I'm not taking a baby! Tell her NO! We've got chickens and kids and chaos—this is no home for a baby. I'm so done, so over the baby stage!" Julie recalled.
But Bethany promised it was just for a couple of weeks, and Steve convinced Julie that "We can do anything for two weeks!" So in came child #11, and Julie now says, "We fell in love, our kids fell in love, it got complicated really fast, but it was incredible to see our girls heal through Eva. When she came into our house, it was suddenly not all about them, and they knew how to do this, since they had taken care of babies with their child care center. They instantly attached to her!"
But that time things weren't easy, either. What was supposed to be only two weeks became a year, with Eva in and out of their house. She came back to them on the kids' first day of summer break, and Julie was overstressed, exhausted, thinking "What is wrong with me? I need to learn to say no! I don't have a crib, formula, diapers, and she came back to us with dirty clothes, and all the kids were home for summer…Eva's screaming, I'm trying to wash her clothes, and I finally called Myla in for help."
As Myla, then in Mr. Bouman's class at Zeeland Christian, was busy folding Eva's baby clothes, she suddenly recognized the clothes: These were the clothes that her class from school had given to a young pregnant mother that they had "adopted" to pray and care for. Had as a class filled a dresser for, with all the necessary first new baby clothes and paraphernalia.
"And now she's in my house?!" exclaimed Julie. "And I said, 'God, why do you always do this?!' When we are just about at our lowest, and most sinful, He is like, 'No, I'm going to turn your attitude!'"
"And everybody loves Eva! She's taught us that God's called us to love in the moment—would you still do this, if you knew you weren't going to be able to hold on to her? Because there's no signed paperwork, we're still not guaranteed we'll get to keep her," Julie said. "Though we're trying!"
But how do they make the daily details work? Of life with 11 children? A Christian education for every one?
"We use my crockpot a ton, eat lots of tacos, and eat buffet style. Do a lot of Aldi shopping…" Julie said matter-of-factly. "We're definitely better with our resources! Things get passed around and utilized, and food seldom goes to waste. It goes through the kids, then the dogs, then the chickens. You learn as your family grows what works, what doesn't. They grow up different and faster and learn things from their older siblings!"
Not the life Steve and Julie imagined for themselves back in high school, yet one they are grateful for, flourishing in.
"I would say that Holland Christian planted the seeds that made us aware of living for more than just the 'American Dream,'" Julie said. "It also helped us develop Christian friendships that helped encourage us to step out of the boat when the time was right. A good Christian education gives you a worldview that looks at family differently than the typical American nuclear family. We were blessed to have been taught that Jesus calls us to live a life that matters, and doesn't always make sense to the rest of the world."