Spring 2023 Connections
HCHS Spanish Immersion student Aidan Delcalzo '23 never anticipated that his Spanish speaking skills would allow him to watch foot surgery in person.
And Sam DeBoer '23 really never planned on bagging groceries at Community Action House, but found while doing it this spring that his Spanish was actually quite helpful.
Kate Schemper '23 used her Spanish a little while interning this spring at Winning at Home, but she used it a lot at Zeeland Christian School, where she interned with Jodi Pierce, working with 3rd grade Spanish Immersion students there.
This is the second year of the HCHS Spanish Immersion (SI) Senior Internship Class as the senior capstone class that placed HC students in a variety of work locations throughout Holland and Zeeland to try out their Spanish in a work setting.
And most learned a new vocabulary.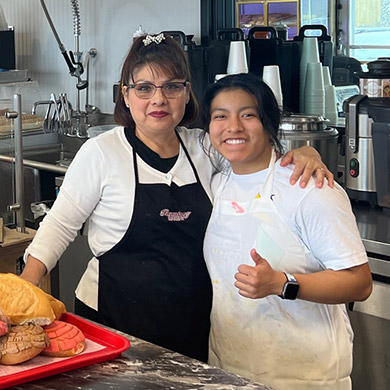 "They're not at all similar!" Aidan exclaimed about Spanish vs English names for foot bones. "There's all different parts of the foot—like 80 of them, and the English and Spanish are not at all similar."
Izzy Leys '23 learned the nuances of Mexican pastries and baking terminology through Ramirez and Colin's Bakeries. Kyle Cannon '23 studied tax terms to help with filing taxes through the Community Action House. Students learned a few unexpected things as well.
"It was helpful learning a lot about what a doctor does in day-to-day terms, and gave me insight into what I need to learn in college," Aidan said, adding that he's not sure if he wants to go into planes, feet, or business after college.
"Being able to speak both English and Spanish and translate is a blessing to those [who] need [it]," Sam DeBoer emailed, "and doing what I'm doing can really have an impact on your life and the lives of others."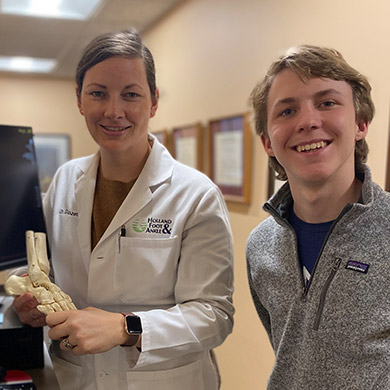 "We're getting [students] into a more authentic context of speaking Spanish.
"I learned how different workplaces in the community of Holland and Zeeland use Spanish," Kate Schemper added. "There are many workplaces in our community that work really hard to provide equal supplies to people in both Spanish and English (as well as other languages). This class has helped me see where my interests lie and what careers I could see myself in."
"Because I haven't used my Spanish much outside of school, the language always seemed kind of far away, but being in this class I realized that there's a whole community of Spanish-speaking people right here in Holland," Isabelle Leys emailed. "The bakery business does not really fit the field I want to go into; however, the social aspect of the job helps me learn more about culture and how in different parts of the world, people just have different patterns of behavior…and the biggest bonus is that I get a LOT of free dessert!"
Before her internship with Rose Park SI kindergarten teacher Hillary Klipp Lopez, Kayla Cannon '23 was thinking about possibly going into education: "It's been really fun!" Kayla said. "Before I was thinking 5th grade, but I do really like kindergarten, and I would probably consider teaching in Spanish Immersion," she added.
"We're getting [students] into a more authentic context of speaking Spanish," explained Anna Slenk '02, HCHS's SI coordinator, who helped create the class along with the class teacher, Noelle Solis. "Our students have [rarely] been in spaces where they are the minority. Plus there are so few chances for our students to work alongside and learn from more people, versus feeling like they need to serve someone."
"Having a second language is so much more than trying to get a leg up, or a better job," Anna added—as beneficial as that might be. But it's also "the ability to communicate, and understanding the cross-cultural community in order to do that well."
Once a week the internship students gather in class to read and discuss and compare notes, to assess the use of language, both English and Spanish, in the context of their internship location. At the end of the internships, students present to their friends and family at a banquet what they learned.
We "want to understand how the Hispanic community is shaping Holland, look at how you can use [Spanish] now that you're done [with high school], show them that you don't need to go far to use your Spanish," Noelle said.
Anna says that too frequently students think they will reach a point when they know all the Spanish they need to know. Instead, she wants them to "understand what it's like to be a lifelong language learner, that the language used in school is different than the medical profession, that every field has unique languages—that you never really arrive. It's a reminder that maybe I still have a lot to learn, and … there's a lot of new to be discovered!"
HCHS's SI program is in its eighth year, and has developed into an amazing program—one that other secondary SI programs have asked to copy. Despite some initial difficulties settling into which college program we could attach ourselves to for advanced/college Spanish credits, things have settled into place. We are able to offer a rotating variety of classes so that students and families have flexibility and choices, as well as a wealth of experiences.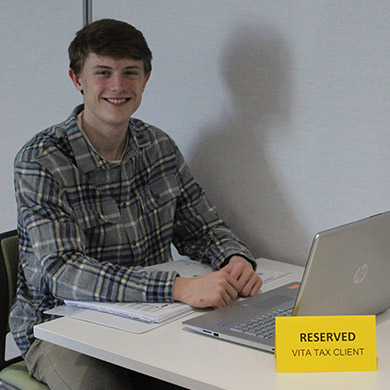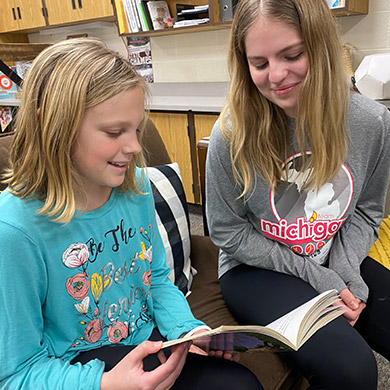 "We went on tons of field trips, from churches to bakeries," said Kayla. "We did service days—[Solis] found ways to apply our Spanish skills so much in the real world, rather than just in class."
Of course we are grateful for the plethora of community businesses and organizations willing to take in our SI students as interns, so our students not only use their second language in community, but can explore future careers:
"Allowing high school students to experience a medical career firsthand is a special way for them to gain insight on understanding their own gifts and talents, and learn how God may lead them in the future," emailed Dr. Allison Dozeman, DPM about Aidan's internship with her at the Holland Foot & Ankle Center. "It is especially interesting for me to work with a Spanish Immersion student from Holland Christian. I studied Spanish as a high school and undergraduate student, and I am thankful to be able to use these skills in a practical sense in a medical setting."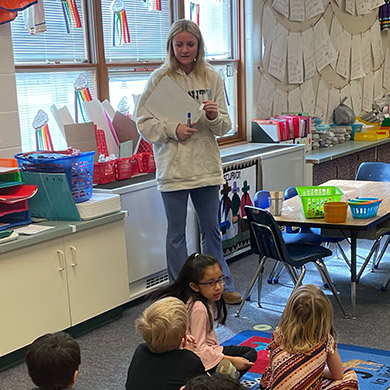 "The kids absolutely LOVE [Kayla] and are always asking if it is a day when 'Maestra Kayla' is coming to see them," Hillary said. "They think it is so cool that she was once a Spanish Immersion kindergarten student just like them! It is also fun for me to work with Kayla as an aspiring future teacher, give her tips, show her what has worked or not worked for me in the classroom, and seeing her joy and enthusiasm with my students. It is truly a blessing to have this kind of full-circle partnership with our high school immersion students!"
Plus the idea of our SI students in community internships fits in so beautifully with HC's whole reason for existence: "The Spanish Immersion program at HCHS is an invaluable opportunity for our students not only because of the clear academic and professional benefits, such as higher critical thinking and problem-solving skills, but more importantly because immersion encourages students to see more intimately the image of God in people who speak the language around the world," wrote HCHS principal Miles Colago. "Our students are learning Spanish in order to deepen their love of their neighbor and, in so doing, transform the world distinctively for Jesus Christ."