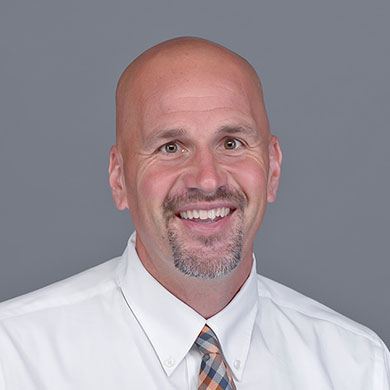 "The power and value of sport is not whether you win or lose, but if done right can transform someone's life. Things like how do I become a team player? Compete with excellence like God would want?
Winter 2021 Connections Alumni Profile
When Tim Schoonveld '92 took the job as Hope College's first ever full time athletic director last year, who would have thought he'd be cancelling whole sport seasons a year later? Yet there he was last spring, speaking with all the senior athletes, gathering all the spring sports teams to tell them all spring sports were cancelled due to a global pandemic.
"That was the worst day I've had professionally—to look kids in the eye and say, 'Sorry, your season's done,'" Tim said. "And the women's basketball team was on course to possibly win a national championship—they were just that good. All season there was a feeling that this is fun—it was feeling great to win!"
After cancelling the spring sports season, his staff planned all summer for the fall sports season, only to have the MIAA postpone all fall competitions in the end, sending them back to the creative drawing board—though everyone is grateful students can at least practice with their athletic teams. For the past 10 years as part-time AD, Tim was used to staying late after hours closing up sporting events, clearing everyone out, seeing to the safety and health of the athletes and coaches. Now he stays late on campus giving COVID-19 tests to lines of students, as the team of Hope staff work to keep the student body healthy and safe and as COVID-free as possible.
"The power and value of sport is not whether you win or lose, but if done right can transform someone's life. Things like how do I become a team player? Compete with excellence like God would want? Work with people I don't like?" he explained. And suddenly, those valuable experiences are gone for the present. "Everybody knows it's just a hard time for people–a lot of my job now is just encouraging people, walking alongside, inspiring, motivating coaches and athletes in the middle of what's going on," he said.
But he's had enough difficult experiences in his own life to help with a healthy perspective in the midst of struggle and crisis, and to understand that just because you are a Christian, or part of a Christian community, doesn't guarantee life will be easy. "Sometimes in these Christian circles we live in this bubble," Tim said. "We generally believe that if we believe in God, then things should be good. But actually that's not biblical."
Learning that truth didn't come easily, but through a variety of struggles and triumphs. Tim came to Holland Christian as an eighth grader from the Chicago area when his dad, a pastor, took the job leading Faith CRC in Holland. Even from middle school, basketball was always his main love, though he also ran some track and played a bit of tennis while at HCHS. During his junior year at HC when his basketball team had a 19-0 record, Tim blew out his knee at practice the day before their last game. Not only was he out the rest of the season, he needed knee surgery.
Tim attended Calvin University for his freshman year, played basketball for the season, but then did it again— tore his knee and needed more surgery. And meanwhile realized Calvin just wasn't for him, but didn't know yet what was for him.
So he dropped out of college, moved to California to work construction and live with his sister there, and then moved to Illinois to work for a family friend's construction crew.
And learned a good lesson in what he was not made for: "I quit construction because I wasn't very good at it!" he laughed, but then reflected thoughtfully on the magnitude of his parents' decision to let him go, to make his own decision to sink or swim.
"Letting me go to California was crazy. But not a total failure and poor choice, but a good lesson," he said, then switching then into parenting his own three children. "You think 'I have to control everything'—but it's their life. It's more about how to make choices and letting them sink or swim. In the end, you want them to know the Lord, but as much as I want and push, they have to make that choice."
When back in Holland visiting family, still uncertain of what was next, Tim ran into Glenn VanWieren who was then at Hope and who encouraged Tim to transfer to Hope to finish his degree, which Tim then did. He thought about resurrecting his basketball career, but was out of shape from his time off the court and instead got into coaching as a student assistant at Hope. And found out something he was really good at, even possibly made for.
"Hope has generally good students, good academics—so I had a false sense of [competence]," he laughs self-deprecatingly. "But they were just good players."
Then he was invited to coach girls basketball at Holland Christian High School. "I think I still hold the record for the worst record!" he laughed again. "You're young and dumb—we won two games my first year. And it was a good humbling experience for me to walk through that. I was lucky there were not unreasonable expectations for me. But we had some really good players at the end, so that helped!"
At "the end," in 2008, Tim was named Class B coach of the year by the Basketball Coaches Association of Michigan as the HCHS girls varsity team advanced to the state tournament semi-finals. The next year, the girls basketball team made it to the state quarterfinals under his leadership with a school record of 21 wins. And then the next year was invited to teach and be part-time AD at Hope College.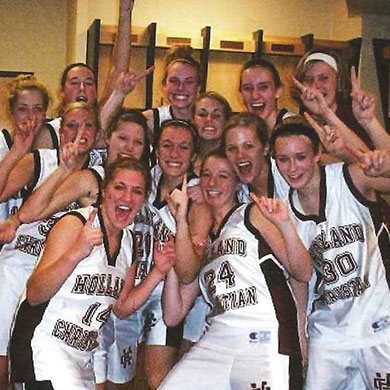 "You start recognizing the simple pleasures, gifts. You become more aware of the church and how we pick each other up, how you pick others up.
"It also was a reminder that God can work [in all things.] The key ingredient is the Holy Spirit working— you're key and important, but you are not the Holy Spirit!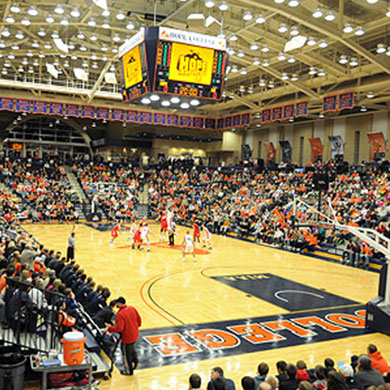 His three children have all attended Holland Christian High School after Zeeland Christian Schools, his youngest, Teagan, still a student at HCHS. His eldest, Kenedy, is a senior at Hope, one of those athletes desperately hoping for their winter sports season and possibly a national title. His son, Elijah, is one of the 850+ freshmen currently enrolled full time at Hope, and who also hopes to play men's basketball there. Tim met his wife, Lisa, while both were at Hope, and who also taught math at Holland Christian for a couple of years, then moved on to leading worship, working for a non-profit, and now works for an insurance agency. "She is the best thing in my life, and has made me so much better!" Tim said.
Besides his wife, Tim says he's sustained by his faith. He has seen glimpses of God's hand at work through a variety of people in a variety of ways. Sometimes it is friends who suffer and laugh with the family through difficult health issues over the last few years. Sometimes random gift cards show up in the mail or dinners arrive on their doorstep.
"You start recognizing the simple pleasures, gifts. It shapes you and molds you and makes you more aware of things," he continued. "We've been super blessed by the Hope and Holland Christian and Holland communities— all joining with us in our struggles. You become more aware of the church and how we pick each other up, how you pick others up."
In this year of unprecedented challenges both professionally and personally, Tim remains rooted in faith and the hope only Christ can provide. We are grateful for his presence in our lives, and for his steadfast commitment to Holland Christian, Hope College, and our Holland Community!